Bill Clinton reveals Ukraine regrets
Pressuring Kiev to give up its nuclear weapons was a mistake, the former US president has said in an interview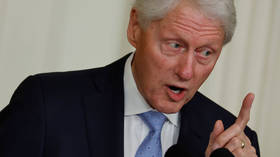 Former US President Bill Clinton has opened up about his "personal stake" in the Russia-Ukraine crisis, telling an Irish media outlet that he regrets pressuring Kiev to give up its nuclear arsenal under the Budapest Memorandum in 1994.
"I feel a personal stake because I got them to agree to give up their nuclear weapons," Clinton told the RTE news service in an interview published on Tuesday. "And none of them believe that Russia would have pulled this stunt if Ukraine still had their weapons."
The deal came together in January 1994, when Clinton, Russian President Boris Yeltsin, and Ukraine's Leonid Kravchuk signed a tripartite agreement to eliminate the nuclear warheads left in Ukrainian territory following the Soviet Union's collapse. Clinton noted that Yeltsin also agreed to never interfere with Ukraine's territorial boundaries because he wanted the former Soviet Republic to give up its nuclear weapons.
"I knew that President Putin did not support the agreement . . .," Clinton said of the territorial pledge. "They [Ukrainian leaders] were afraid to give them up because they thought that's the only thing that protected them from an expansionist Russia. When it became convenient to him, President Putin broke it and first took Crimea, and I feel terrible about it because Ukraine is a very important country."
The former US president also called for Western governments to remain steadfast in their support for Ukraine. "I think what Mr. Putin did was very wrong, and I believe Europe and the United States should continue to support Ukraine. There may come a time when the Ukrainian government believes that they can think of a peace agreement they could live with, but I don't think the rest of us should cut and run on them."
Russian officials have claimed that the US and its NATO allies promised after the Soviet collapse not to expand the Western military bloc into Eastern Europe. Washington's then-secretary of state, James Baker, offered in February 1990 to provide "iron-clad guarantees" that NATO wouldn't expand "one inch eastward" if the Soviet Union cooperated on the reunification of Germany as a member of the Western alliance.
However, NATO began to expand during Clinton's second term as president, adding Poland, Hungary, and the Czech Republic as members in 1999. Since then, NATO has added a dozen more members that were formerly Soviet republics or part of Warsaw Pact nations. Clinton told CNN last September that he had no regrets about NATO's expansion. "I think we did the right thing at the right time, and if we hadn't done it, this crisis might have occurred even sooner."
You can share this story on social media: