Israeli police storm iconic mosque (VIDEOS)
Officers forced their way into the Al-Aqsa holy site in Jerusalem, arresting hundreds of Palestinians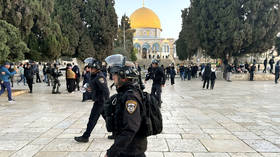 Violent scenes broke out on the Temple Mount in Jerusalem on Wednesday morning as Israeli security forces entered the Al-Aqsa Mosque. They detained hundreds of Palestinian youths who had barricaded themselves inside one of Islam's holiest sites, with reports of beatings and police brutality.
Israeli police claimed on social media that more than 350 "vandals" and "law-breaking and masked youths" had launched fireworks and pelted stones and other objects at officers.
"After many and prolonged attempts to get them out by talking to no avail, police forces were forced to enter the compound in order to get them out," Israeli authorities said on Twitter.
The statement added that two police officers had sustained injuries, also claiming that the "rioters" had caused damage to the mosque and "desecrated it."
All those arrested were taken in for questioning, Israeli officials said.
According to reports, Israeli authorities deployed stun grenades, rubber bullets, and tear gas.
The official Palestinian Wafa news agency stated that dozens of worshippers had sustained injuries at the hands of Israeli police, who the media outlet claimed had used excessive force. The agency also alleged that Israeli security forces had prevented medics from entering the site.
The violence broke out as Muslims celebrate the holiday month of Ramadan and Jews prepare to start the Passover festival on Wednesday evening. The Temple Mount is considered a holy site by both religions.
Muslims had flocked to the Al-Aqsa Mosque after Jewish ultranationalists called for the ritual slaughter of a goat in the compound. The ancient practice is currently banned by Israeli authorities to preserve the fragile status quo, though this has not stopped some Jewish worshippers from insisting on performing the sacrifice inside the mosque.
Overnight, at least nine missiles were fired from Gaza, most of which were intercepted by Israeli air defenses. In response, Israel unleashed airstrikes on what it described as Hamas training camps in Gaza.
The Palestinian administration condemned the storming of the mosque by Israeli security forces as a crime that "exceeds all red lines and will lead to a large explosion."
Jordan, Egypt, and Saudi Arabia have also strongly criticized Israel's use of force at the holy site, arguing that it undermines peace efforts in the region.
You can share this story on social media: