British boxers reveal reason for world championship boycott
The team cited the decision to allow Russia and Belarus to compete, as well as concern the sport may be dropped from the Olympics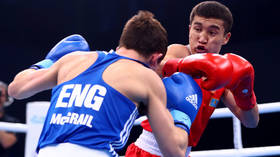 The British boxing team has confirmed that it won't participate in the upcoming world championships in Tashkent, Uzbekistan, at least partly because squads from Russia and Belarus will be allowed to compete in the tournament.
GB Boxing issued a statement on Tuesday, taking issue with a ruling by the International Boxing Association (IBA) to allow teams from Russia and Belarus to compete under their national flags. That decision "contravenes" the position of the International Olympic Committee, which has called for international sport federations to restrict Russian and Belarusian athletes to competing only as neutral individuals, the UK team said.
"GB Boxing condemns the Russian invasion of Ukraine and has solidarity with the people, boxers, coaches and officials of Ukraine," the statement said. The team added that its decision to skip the world championships also reflects "concerns about the future of boxing's place on the Olympic program."
However, GB Boxing went on to say that it will be competing in upcoming tournaments in Finland, Türkiye, and the Czech Republic. The UK team also boycotted the IBA-organized women's world championships last month in New Delhi. The men's competition is scheduled to run from April 30 through May 14 in Tashkent.
"GB Boxing is committed to delivering the best possible preparation for our boxers in the build-up to Paris 2024 and will continue to work with national federations and tournament organizers to provide training and competition opportunities in advance of the Olympic qualifying events that begin in June 2023 with the European Games in Poland," the statement said.
The IBA's decision not to ban the Russian and Belarusian teams has "put further distance between the IBA and the Olympic movement," GB Boxing said. The team added that the IBA was already facing pressure from the IOC to resolve "significant, longstanding issues over sporting integrity, governance, transparency and financial management" in order to "protect boxing's place on the Olympic program."
The IBA was stripped of involvement in the 2020 Tokyo Olympics, and boxing was left off the initial program for the 2028 Olympics in Los Angeles, pending reforms ordered by the IOC. The international amateur boxing body welcomed an IOC monitoring team at its women's world championships last month, saying that oversight would verify its reform efforts and help ensure its recognition by the Olympic organizer ahead of Paris 2024.
You can share this story on social media: