TikTok fined for misusing kids' data
British regulators slapped the Chinese company with a $16 million penalty for collecting information from underage users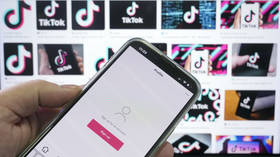 The UK's privacy watchdog has fined TikTok £12.7 million ($15.9 million) for failing to remove users under the age of 13 and for using their data without parental consent. The ruling comes as Western governments crack down on the wildly popular Chinese video app.
In a statement on Tuesday the Information Commissioner's Office (ICO) said that more than a million British children under the age of 13 used TikTok in 2020, in contravention of the app's terms of service. TikTok "did not do enough" to remove these underage users, the watchdog stated, adding that the company used their data without obtaining parental consent.
"That means that their data may have been used to track them and profile them, potentially delivering harmful, inappropriate content at their very next scroll," UK Information Commissioner John Edwards said in a press release.
TIkTok insisted that it invests "heavily to keep under 13s off the platform," stressing that its 40,000-strong safety team monitors accounts for signs of underage use.
The platform has been handed similar punishments before. The US Federal Trade Commission found in 2019 that the app – then called Musical.ly – violated US privacy law by allowing children under 13 to sign up without parental consent. The FTC and Musical.ly agreed on a settlement of $5.7 million.
In the EU, breaches of the bloc's privacy laws are usually investigated by Ireland, as most of the biggest multinational tech firms have their EU headquarters in Dublin. After opening a similar investigation into TikTok's handling of underage user data in 2021, Ireland's Data Protection Commission proposed an undisclosed "preliminary range of fines" on the company last November, Irish media reported.
Aside from these investigations, TikTok has been accused by multiple Western governments of sharing user data with the Chinese government, a charge both it and Beijing deny. Nevertheless, TikTok has been banned from government-issued devices in the US, UK, and EU's main institutions, as well as in more than a dozen other countries.
TikTok claimed that the bans were imposed "with no deliberation or evidence," based on "basic misinformation."
You can share this story on social media: