Trump under arrest in New York
The former US president has entered a Manhattan courthouse to face what he calls "politically motivated" charges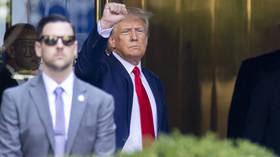 Former US President Donald Trump appeared at a Manhattan courtroom on Tuesday afternoon, where he was placed under arrest and accused of a series of charges.
His attorneys have denounced the move as a politically motivated "witch hunt" by the local District Attorney Alvin Bragg, a registered Democrat.
The nature of the charges was leaked to the press last Friday, and more details were published on Monday, indicating that Bragg is going after the 45th president for the "crime" of allegedly falsifying business records in regard to "hush money" reportedly paid to porn actress Stormy Daniels ahead of the 2016 presidential election.
Federal prosecutors declined to pursue the case, and multiple legal scholars have argued that the charges amount to a misdemeanor campaign violation at best. Hillary Clinton paid a fine for the same exact transgression in the matter of funding the notorious 'Steele dossier', a series of fabrications accusing Trump of having ties to Russia.
Trump himself has denounced the indictment as purely political. Though Florida Governor Ron DeSantis said he might not honor the politicized New York arrest warrant, Trump decided to fly in from his Mar-a-Lago home to New York on Monday, and turn himself in on Tuesday.
Contrary to expectations of multiple media outlets, he was not handcuffed or 'perp-walked' before the cameras. The former president arrived in a motorcade and walked into the office building, flanked by his Secret Service protection detail.
The indictment has galvanized support for Trump, who is also running in the 2024 election. He has reportedly raised millions in campaign funds. Thousands rallied outside Mar-a-Lago to see his motorcade off to the airport, while hundreds of supporters gathered outside the Trump Tower in Manhattan to show their support. A cordon of police separated the New York supporters from a crowd of pro-Democrat protesters who gathered to celebrate Trump's indictment, and attempted to drown out Trump supporters with noisemakers, whistles, pots and pans, and insults.
You can share this story on social media: