White House discussing 'freeze for freeze' nuclear deal with Iran – media
Broadly similar to the 2015 Iran nuclear deal, the plan has been rejected by Tehran, reports Axios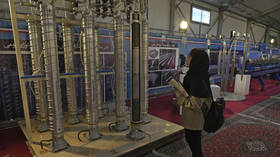 The Biden administration is discussing a potential deal that would see Iran halt progress on parts of its nuclear program in exchange for sanctions relief, Axios reported on Monday.
American officials have discussed the hypothetical agreement with their European and Israeli counterparts in recent weeks, the news site reported, citing unnamed Israeli officials, Western diplomats, and "US experts."
Under the US proposal, Iran would reportedly halt uranium enrichment at 60% purity in exchange for the lifting of some Western sanctions on its economy. According to a report by the International Atomic Energy Agency (IAEA) in February, Iran has enriched nearly 88 kilograms of uranium to 60% purity and trace amounts to 83.7%. Uranium must be enriched to 90% to be considered weapons-grade.
Tehran denies that it is seeking a nuclear weapon, and the Atomic Energy Organisation of Iran responded to the IAEA by insisting that it is not attempting to enrich beyond 60%.
According to Axios' sources, the US proposal has been rejected by Iran. Officials in Tehran reportedly said that they don't want to sign an agreement with worse terms than the 2015 nuclear deal.
That deal, known as the Joint Comprehensive Plan of Action (JCPOA), was signed by Iran and the five permanent members of the United Nations Security Council plus Germany and the EU in 2015. Under its terms, Iran agreed to strict oversight of its nuclear program in exchange for relief from US and UN sanctions. Former US President Donald Trump unilaterally withdrew from the deal in 2018, claiming that Iran was not in compliance, and economic sanctions were reimposed.
The White House refused to confirm or deny the latest report, which a spokesperson dismissed as "second-hand rumors about diplomatic discussions." No Israeli officials commented on the story, although Prime Minister Benjamin Netanyahu said in February that Israel favors economic sanctions coupled with a "credible military threat" when dealing with the Islamic Republic.
Netanyahu has claimed for years that Iran is on the verge of producing a nuclear weapon, but his rhetoric has escalated in recent months. Israel was reportedly behind a drone attack on a military site in the Iranian city of Isfahan in February, which Netanyau followed by warning that a "horrible nuclear war" would ensue if Iran developed atomic weapons.
Israel officially refuses to confirm or deny the existence of its nuclear weapons program, but it is widely understood to have possessed nuclear warheads since the late 1960s.
You can share this story on social media: