Germany could ban ChatGPT – data chief
Such a move would follow the lead of Italy, where the popular AI application was prohibited last week over alleged privacy violations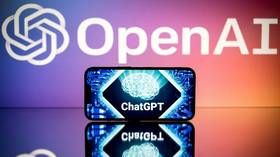 Germany could "in principle" block access to OpenAI's ChatGPT chatbot due to privacy concerns, a spokeswoman for the country's data protection commissioner told the Handelsblatt newspaper on Monday.
"In principle, a similar procedure is also possible in Germany," Federal Commissioner for Data Protection Ulrich Kelber's spokeswoman told the paper, referring to the Italian ban.
Italy's National Authority for Personal Data Protection ordered ChatGPT temporarily taken offline on Friday, as it investigates a suspected leak of user data by the application last month. The Italian regulator also criticized ChatGPT for not notifying users that it collects and stores their information, and for failing to install any filters to verify user age.
Kelber's spokeswoman said that there are currently no plans to ban the chatbot in Germany, and that such a decision would fall under the jurisdiction of the country's individual states.
Kelber's office is currently seeking "further information" from Italian authorities to pass on to state regulators in Germany, she added. French and Irish privacy watchdogs have also been in contact with their Italian counterparts to discuss the investigation, Reuters reported on Monday.
Launched in November 2022, ChatGPT uses OpenAI's GPT-3.5 language model to answer users' questions, solve mathematical problems, and write stories, poems, and even computer code. While OpenAI CEO Sam Altman admits that his technology could "eliminate a lot of current jobs," critics have warned of the more damaging possibility that the chatbot represents an early step toward artificial intelligence eclipsing human brainpower and escaping human control.
Over 1,100 AI researchers and prominent tech leaders, including Tesla CEO Elon Musk and Apple co-founder Steve Wozniak, signed an open letter last month demanding a six-month moratorium on "giant AI experiments."
You can share this story on social media: