Attempts to isolate Russia have failed – EU member
Moscow has assumed the rotating presidency in the UN Security Council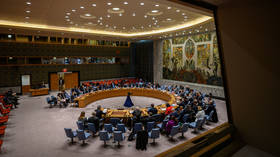 Western countries have failed in their efforts to make Russia a pariah on the global stage, as the country has assumed the rotating presidency in the United Nations Security Council (UNSC), Polish Deputy Foreign Minister Pawel Jablonski said on Saturday.
Speaking to Telewizja Republika TV, Jablonski was asked to comment on remarks by Ukrainian Foreign Minister Dmitry Kuleba, who spoke out against Moscow taking the leading role in the UNSC on April 1, describing it as "a bad joke."
"This is not funny at all, because unfortunately, it serves as proof that in international organizations, this mechanism of isolating Russia does not work as it should," Jablonski said, reiterating that Warsaw wants to strip Moscow of the opportunity to influence other countries.
He added that Russia's presidency in the council does not bode well for anyone, suggesting that it should be "excluded or suspended" from the UN and UNSC. However, Russia is one of the council's five permanent members and has the right of veto, making its exclusion virtually impossible.
Jablonski conceded that despite the Ukraine conflict, Moscow has many allies in other countries, especially those that once were Western colonies.
Russia assumed the rotating monthly UNSC presidency on Saturday, which passes from country to country among its 15 member states, following English alphabetical order since 1946.
While the development triggered condemnation from Ukraine, the US struck a different tone, with White House press secretary Karine Jean-Pierre urging Russia "to conduct itself professionally." She added that there is "no feasible international legal pathway" to change the reality in which Russia is a permanent member of the Security Council.
On Saturday, Russia's deputy permanent representative to the UN, Dmitry Polyansky, said the country's UNSC presidency has "put to shame" Moscow's "enemies and spiteful critics."
He also vowed that Russia would "act as an honest broker" in the international organization. "Unlike our former Western partners, we play fairly in the international arena and do not promote double standards."
You can share this story on social media: