Massive crowds protest in Tel Aviv
The demonstration took place despite Prime Minister Benjamin Netanyahu suspending his controversial reforms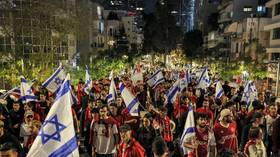 Hundreds of thousands of protesters marched in Tel Aviv on Saturday evening, demanding that Prime Minister Benjamin Netanyahu scrap a planned judicial overhaul. The embattled PM has already suspended the reforms and vowed to negotiate with the opposition, but protesters view his move as a ploy.
Israeli media outlets reported that between 140,000 and 175,000 people attended the rally, while protest organizers put the head count at 250,000 in Tel Aviv and 450,000 throughout Israel. The so-called 'Umbrella Movement of Resistance against Dictatorship in Israel' said in a statement that the protest was "one of the largest demonstrations in Israeli history."
Groups of protesters blocked the normally busy Ayalon Highway twice over the course of the evening, The Times of Israel reported. Police used water cannons to clear the road.
Israel has been rocked by continuous protests since Netanyahu announced his proposed reforms in January. These legal changes would allow Israel's parliament to override Supreme Court rulings with a simple majority vote, would grant the government more power in appointing judges, and would limit the ability of the court to review legislation it deems "unreasonable."
Netanyahu announced on Monday that he would suspend the reform package, after firing his defense minister, Yoav Gallant, for publicly challenging the plan. While Netanyahu pitched the pause as a chance to negotiate a compromise agreement with the opposition, the reforms are a key demand of his hardline coalition partners in the 'Jewish Power' party. Should these six lawmakers leave the coalition, Netanyahu will lose his majority and be forced to call a new election.
The Umbrella Movement, however, views the suspension as an attempt by Netanyahu to buy time until public anger subsides. "Netanyahu's attempt to put the protesters to sleep failed," the organization said. "We will continue to be in the streets until we guarantee that the State of Israel is a democracy."
You can share this story on social media: