Stoltenberg predicts when Sweden could join NATO
The Nordic country's path to membership of the bloc has been held up by Türkiye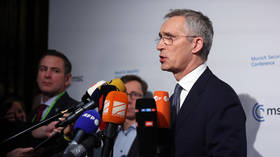 Sweden's path to NATO membership could become clearer after the upcoming elections in Türkiye, which represent a threat to the leadership of President Recep Tayyip Erdogan, the bloc's Secretary General Jens Stoltenberg has told Politico.
"My aim remains that after the Turkish elections, but before the Vilnius summit, we can also have the ratification of Sweden," the NATO chief said in comments published by the outlet on Thursday, referring to the annual meeting of alliance leaders in Lithuania this July.
Sweden applied to join NATO alongside its Scandinavian neighbor Finland last May, but while the Finnish application was ratified this month by Erdogan's government, Stockholm's bid was met with resistance. The delay related to an ongoing row over Sweden's backing of Kurdish groups which Türkiye designates as terrorist organizations.
Last year, Sweden also suspended arms sales to Ankara following the launch of a Turkish offensive against Kurdish militants in northern Syria. Hungary has also so far not opted to ratify Sweden's NATO membership.
With Erdogan's premiership thought to be hanging in the balance ahead of May's elections, however, Stoltenberg suggested that this could present an opportunity to clear a major road-block in the way of Stockholm's NATO application.
He warned, however, that he can provide "no guarantees" on behalf of "sovereign national parliaments." He added that Finland's ratification for joining the alliance proves that "NATO's door remains open."
Should Sweden's membership of NATO be certified, it would mean that around 96% of people in the European Union would live in a NATO country – and even while Stockholm remains mired in the application process, Stoltenberg clarified to Politico that the Nordic nation is "now sitting at the NATO table."
Polling in Türkiye suggests Erdogan's leadership is under threat amid public discontent over the ruling AK Party's response to February's earthquakes, which killed at least 45,000 people. Some 1.5 million people were left homeless, with an estimated 500,000 new homes now required to accommodate them, according to UN estimates.
You can share this story on social media: