UK reveals migrant plans
Government officials are seeking to cut an annual £2.3 billion ($2.8 billion) spend on accommodation for asylum seekers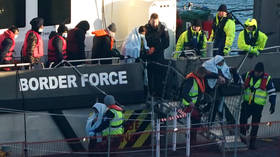 The UK government has revealed plans to place asylum seekers in disused army barracks as it seeks to reduce the cost of temporary housing for migrants, according to a proposal published on Wednesday.
The proposal, which was detailed on Wednesday by UK Immigration Minister Robert Jenrick in the House of Commons, comes amid controversial plans by Prime Minister Rishi Sunak's Conservative government to reduce cross-channel migration – with Jenrick citing a yearly bill of £2.3 billion ($2.8 billion) currently being paid to temporarily house migrants while asylum claims are processed.
Disused military sites, Jenrick said, will be "scaled up over the coming months and will collectively provide accommodation to several thousand asylum seekers through repurposed barracks blocks and portacabins."
However, he refused to confirm UK media reports suggesting they intended to place migrants on barges, saying only that the Home Office is "exploring the possibility" of housing asylum seekers on vessels "as they are in Scotland and the Netherlands."
It comes amid reports that Home Office officials have warned that accommodating migrants on barges or ships could prove to be more expensive than hotels.
Prime Minister Sunak has made curbing illegal migration one of his central priorities since he assumed office in October. He has faced flak from political rivals over the introduction of his Illegal Migration Bill which, among other things, proposes the relocation of migrants from the UK to Rwanda.
The bill also vastly reduces the options migrants might have in objecting to their removal from the UK, and places a renewed emphasis on the office of the Home Secretary Suella Braverman to "remove illegal entrants." Critics have claimed this violates international law and it has been rebuked by various human rights groups, as well as the European Union and the Council of Europe.
The Labour Party, the chief opposition party in the UK, has accused the government of "an admission of failure." Shadow Home Secretary Yvette Cooper told MPs on Wednesday that the plans have been introduced only after several years of demonstrating an inability to reduce cross-channel migration and the use of hotels as temporary accommodation.
You can share this story on social media: