China ready to boost military cooperation with Russia
The Defense Ministry in Beijing has said it is willing to work with Moscow on strengthening strategic coordination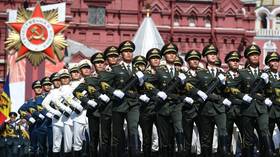 China is ready to strengthen cooperation with the Russian military in order to jointly uphold international justice, peace and security, Chinese Defense Ministry spokesman Tan Kefei stated on Thursday.
The announcement comes after a summit between President Xi Jinping and his Russian counterpart, Vladimir Putin, in Moscow earlier this month. The two leaders reaffirmed the principles of partnership between their nations, and agreed to improve bilateral relations and military coordination.
According to Tan, China is "willing to work together with the Russian military to fully implement the important consensus reached by the two heads of state." That includes further strengthening strategic communication and coordination, he added.
The diplomat stated that the two nations plan to regularly organize joint maritime and air patrols, as well as holding training exercises and strengthening various other areas of cooperation. According to Tan, the aim is to "deepen military mutual trust" with Russia to help ensure international justice and make new contributions to international and regional security. This would "serve the building of a community with a shared future for mankind," he asserted.
Tan noted the increasingly strong relations between Moscow and Beijing, but insisted that they do not amount to a Cold War-style military-political alliance. According to the spokesman, the ties "transcend this model of state relations" and have a nature of "non-alignment, non-confrontation and non-targeting of third countries."
The US, meanwhile, has called the growing ties between Russia and China "very troubling." Officials have also described China as a "challenge," with the Pentagon requesting a 2024 defense budget of up to $842 billion.
During his press conference, Tan argued that is China a "builder of world peace" and "contributor to global development." In contrast, he claimed that the US uses its mammoth defense budget – which is the highest in the world – to "wage wars and create turmoil everywhere," thus making it "the biggest threat to world peace, security and stability."
You can share this story on social media: