Baltimore blocks East Palestine toxic water dump
The contractor hired by Norfolk Southern to clean wastewater from its Ohio rail accident must find another destination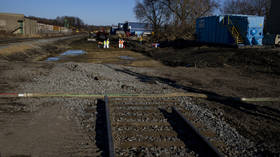 A Baltimore contractor has agreed to relocate the processing of hundreds of thousands of gallons of toxic wastewater from the site of last month's Norfolk Southern train derailment after local officials mounted strong opposition to the disposal plan. Clean Harbors of Baltimore Environmental Services announced on Tuesday morning that approximately 600,000 to 800,000 gallons of water from East Palestine, Ohio would be processed elsewhere.
Local officials had only learned on Friday that Norfolk Southern had contracted with Clean Harbors to ship enormous amounts of contaminated water from the derailment site to Baltimore. From there, the water would have been piped into Baltimore's aging, leaky sewer system, and from there it would travel to the city's troubled Back River Wastewater Treatment Plant. Just last year, the state declared the plant to be on the brink of "catastrophic failure," and less than a month ago one of the plant's buildings dedicated to processing sewage sludge suffered a massive explosion requiring its closure.
While the Baltimore city council voted on Monday to implore the Environmental Protection Agency (EPA) to reconsider allowing the wastewater to be sent there, the agency has refused to hear any objections, having warned state environmental agencies in a letter earlier this month that blocking Norfolk Southern's hazardous materials from their jurisdictions would be "impermissible" as a violation of the Interstate Commerce Clause of the Constitution.
However, Baltimore Mayor Brandon Scott concluded that the city did not have to accept the wastewater from Clean Harbor into the local sewer system once it was inside Maryland state lines. On Monday, he announced the city could "shield its sewer system from the Ohio wastewater by modifying the discharge permit issued to Clean Harbors to 'safeguard Publicly Owned Treatment Works'."
Last month's Norfolk Southern train derailment in East Palestine spawned an environmental disaster of rare proportions after local authorities permitted the burning of highly toxic vinyl chloride that spilled from five of the cars, releasing numerous toxic substances including dioxins into the surrounding air, water, and soil. While the EPA attempted to reassure residents the pollution did not pose a health risk, numerous scientists have argued otherwise, pointing out that even small amounts of chemicals like dioxins can accumulate over years with deadly results.
You can share this story on social media: