Germany to massively increase military aid to Ukraine - Spiegel
Letter to Bundestag seeks €15 billion ($16.2 billion) over the coming years, citing Kiev's battlefield losses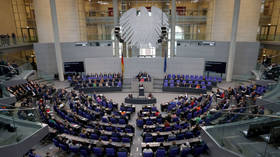 Heavy losses of equipment in battle mean that Ukraine's military needs more tanks, artillery and air defenses, as well as maintenance for them, according to a letter from the German treasury to the parliament revealed by Der Spiegel on Tuesday.
Finance Minister Christian Lindner wrote to the Bundestag on Monday, and the parliamentary budget committee met on Tuesday in secret to consider his request, according to the German outlet. He is asking for €3.2 billion ($3.47 billion) more this year and another €8.8 billion ($9.54 billion) for "ongoing commitments," on top of €2.2 billion ($2.39 billion) already spent on Ukraine.
"Due to the high material losses of the Ukrainian Armed Forces, new supplies of material are required," the treasury wrote, further arguing that a number of procurement and maintenance contracts for "needs-based sustainable equipment" of Kiev's military need to be concluded immediately.
The letter specifically says the Ukrainians need more air defense, armored tracked vehicles – including tanks – and ammunition for tanks and artillery. Supplying the weapons systems also creates a "follow-up obligation" to provide ammunition, service and maintenance, the treasury added.
The additional expenses are "objectively unavoidable," Lindner argues, because "without ongoing support to Ukraine, there is a serious danger of it losing" in the conflict against Russia, "with unforeseeable consequences for peace in Europe."
Even so, Lindner did not want to submit a supplementary budget request for this funding, but asked the parliamentarians to find unspent money in other departments, including the funds appropriate for dealing with the Covid-19 pandemic, according to Spiegel.
Asked about the Spiegel revelations on Tuesday, Kremlin spokesman Dmitry Peskov said Berlin's decision to boost aid to Kiev "does not bode well."
"Current relations between Russia and Germany leave much to be desired," Peskov added. "Germany takes an active part in pumping up Ukraine with weapons, directly and indirectly increasing its level of involvement in the conflict."
The Russian Defense Ministry estimated that the US and its allies had spent over $100 billion to prop up the Ukrainian military by the end of 2022. Multiple Western officials have publicly declared that Russia "must lose" or be "strategically defeated," while insisting that their countries were not actually taking part in the conflict.
You can share this story on social media: