France announces massive police mobilization
13,000 officers will be deployed to counter nationwide protests, the interior minister has announced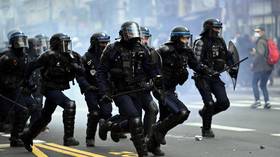 French Interior Minister Gerald Darmanin has ordered 13,000 police officers into the streets of France's major cities as protests against the government's controversial pension reforms continue. Darmanin said that he is expecting "radical activists" from abroad to instigate violence at the demonstrations.
Darmanin announced the deployment on Monday night, adding that 5,000 of the mobilized officers would be stationed in Paris ahead of marches on Tuesday.
"Our services anticipate that there will be significant disruption to public order," he said, warning that "more than 1,000 radical activists, some arriving from abroad, may join the protests in Paris, Nantes or Rennes."
Darmanin said that these "radical activists" are mostly left-wingers and anarchists who are known to police. "Their goals are to destabilize our republican institutions and bring blood and fire down on France," he claimed.
France has been hit with constant protests and riots since President Emmanuel Macron bypassed parliament earlier this month to pass a bill raising the retirement age for most workers from 62 to 64. More than a million demonstrators took to the streets last Thursday, and hundreds were arrested in Paris after clashing with police and lighting fires on the streets of the French capital.
As of Tuesday afternoon, the demonstrations in Paris remained mostly peaceful. However, masked rioters in Nantes set cars on fire and hurled rocks at police, who responded with tear gas. Protesters in Paris and Marseille blocked railway lines, while a group of demonstrators set off a smoke bomb in Biarritz Airport, triggering alarms and leading to an evacuation.
The Council of Europe has condemned the government for using excessive force against protesters, while France's National Consultative Commission on Human Rights issued a report last week accusing police of arresting hundreds of demonstrators without cause.
Macron is insistent on keeping his reforms in place. "I have no regrets pushing for this necessary reform," he said in a televised interview last week, adding that he accepts "unpopularity" as a result. Macron has long argued that France's pension system will go bankrupt unless the retirement age is raised, while his opponents have called on the president to make up for the shortfall by increasing taxes on the wealthy instead.
You can share this story on social media: