North Korea tests 'nuclear drone'
Pyongyang has claimed that the "secret weapon" can create a "radioactive tsunami"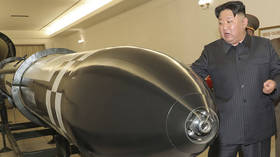 North Korea has shared details about two of its latest weapons tests, both involving simulated nuclear strikes. Seoul also reported that the DPRK fired off multiple ballistic missiles into the sea, just hours before a US warship is set to arrive in South Korea.
Pyongyang said it conducted tests on its new "nuclear unmanned underwater attack boat" between March 25 and 27, stating the "test combat unit" was "accurately detonated underwater."
Previously dubbed a secret weapon, North Korea's military has claimed that the platform can create a "radioactive tsunami" using underwater explosions and "annihilate enemy ship groups" without detection, though has revealed few details about the UAV.
The weapon remained submerged for more than 41 hours and was detonated in waters off North Korea's east coast, the state-run Korean Central News Agency (KCNA) reported on Tuesday.
In another recent drill, tactical ballistic missiles were loaded with munitions "simulating nuclear warheads" to test the military's "firing preparations," followed by a "virtual nuclear attack" in which the test warheads were detonated 500 meters above their target. The commander of the launch unit said the drill affirmed that "if we fight, we will surely annihilate the enemy," according to KCNA.
During a meeting of the ruling Workers' Party on Monday, North Korean leader Kim Jong-un stressed the need to "qualitatively strengthen the DPRK's nuclear forces," and said he had "reviewed the prepared nuclear counterattack operation plan" in the event of a conflict.
The latest tests come amid soaring tensions between Pyongyang, and Washington and Seoul, with the US leading a flurry of major military drills in the region in recent months, which the DPRK has repeatedly condemned as preparation for an attack. In retaliation, North Korea has carried out a record number of weapons tests, including several intercontinental ballistic missiles (ICBMs), drawing condemnation from the US.
Earlier on Monday, South Korea's military said it detected two short-range ballistic missiles fired from the DPRK's North Hwanghae province. Both were reportedly launched in the direction of Japan, but landed outside the country's exclusive economic zone, according to officials in Tokyo.
"We will keep a close eye on North Korea's various activities and maintain firm readiness posture based on the capability to overwhelmingly respond to any provocations," the South Korean military said in a statement.
Despite repeated warnings from Pyongyang, however, the military added that it would continue its scheduled drills with the US, which sent an aircraft carrier set to dock at a South Korean naval base on Tuesday. The warship will take part in a joint exercise with South Korean forces in waters off its east coast before it arrives, the latest in a long list of similar drills.
You can share this story on social media: