Americans polled on Trump 'witch hunt'
More than six in ten US adults don't want the former president to win another term, while 75% believe he's guilty of misconduct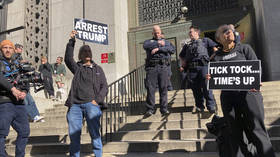 US voters are largely do not accept former President Donald Trump's claims that he's the victim of a political 'witch hunt', a new poll has revealed. According to an NPR/Marist poll released on Monday, most respondents agree that the various criminal investigations against him are fair, and over six in ten don't want him back in the White House.
Nearly half of US voters (46%) believe Trump is guilty of a crime, while an additional 29% say he's done something unethical, if not illegal, the poll findings suggest. Just 23% are convinced that Trump has done nothing wrong. Even among Republican voters polled, more than half (53%) believe the former president did something unethical or illegal. A whopping 74% of independents and 64% of white evangelical Christians say he's committed misconduct or a crime.
"Amid multiple allegations of wrongdoing against former President Trump, what's striking is that, although Republicans still largely back him, white evangelical Christians are not as strongly behind him," Marist College polling chief Lee Miringoff said.
The poll showed that 56% of respondents see the investigations against Trump as fair, while 41% say he's the target of a witch hunt. That result might not bode well for Trump's 2024 presidential campaign. The former president claimed earlier this month that he was about to be arrested in New York, where a grand jury was reportedly investigating his 2016 hush-money payment to porn star Stormy Daniels. He used the looming legal threat to solicit campaign contributions and urge his supporters to hold protests on his behalf.
Just 38% of US voters, including 34% of independents, want Trump to win another term as president, the poll found. Similarly, only 39% of Americans have a favorable opinion of Trump, down from 42% in November.
Trump has vowed to stay in the 2024 presidential race if he's criminally charged. Some observers, such as Twitter owner Elon Musk, have suggested that being arrested could help him win by galvanizing his supporters. "If this happens, Trump will be re-elected in a landslide victory," Musk said earlier this month.
You can share this story on social media: