US to threaten neighbor over trade row – media
Washington will reportedly demand that Mexico open its energy markets or face a formal dispute and possible tariffs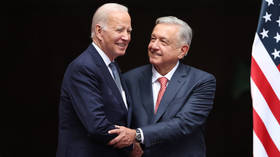 President Joe Biden's administration has reportedly opted to escalate a trade dispute with Mexico, making plans to demand that its neighbor to the south opens up its power and oil markets to US suppliers or face an arbitration and the threat of retaliatory tariffs.
The demand will be made in the coming weeks through an "act now or else" notice to Mexico City from US trade officials, Reuters reported on Monday, citing unidentified people familiar with the discussions.
At issue is Mexican President Andres Manuel Lopez Obrador's decision to roll back reforms aimed at opening Mexican energy markets to outside competitors – allegedly in violation of the 2018 US-Mexico-Canada Agreement (USCMA), a trade deal that requires the countries to curtail protections of state-owned enterprises.
The US and Canada last July requested settlement talks with Mexico on the energy dispute. Having made little progress since then, the Biden administration has decided to ratchet up the pressure by making a so-called "final offer" requiring Mexican officials to eliminate trade barriers and agree to increased oversight.
If they refuse, the US will request that the row be settled by an independent panel, as called for under the USCMA. If Mexico loses that arbitration and still declines to take corrective action, the US and Canada could impose billions of dollars in punitive tariffs on Mexican goods.
The White House had held off on pushing forward with the trade dispute, trying to avoid an escalation of tensions as Biden sought Mexico's help in addressing an illegal immigration crisis and drug trafficking, Reuters said. Relations between the two governments have deteriorated in recent months. Just last week, Lopez Obrador blasted US officials as "liars" after Biden's administration accused Mexico of human rights abuses. "That's just how they are," he said. The US believes "it's the government of the world."
US trade officials have claimed that Mexico's government has given unfair advantages to state-owned utility CFE and state-owned oil company Pemex, to the detriment of American power producers and oil companies. US oil major Chevron and Marathon Petroleum are among the companies that have reportedly struggled to secure permits to operate in Mexico.
The US posted a record trade deficit with Mexico last year, as the value of exports to the country fell more than $130 billion short of imports. In fact, Mexico accounted for about 14% of Washington's worldwide trade deficit, which also hit an all-time high.
You can share this story on social media: