Support for Ukraine waning – EU member president
Slovakia's Zuzana Caputova says military aid for Kiev is not unlimited and warns of weakening public resolve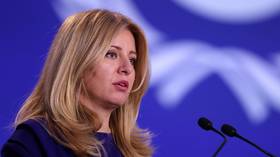 Support for Ukraine is declining both materially and morally in Slovakia as the country's ability to provide Kiev with military aid diminishes, President Zuzana Caputova said on Monday.
"Regarding possible military aid, resources are not inexhaustible," Caputova stated during a Bratislava conference on foreign policy. "If we do not also invest in the defense industry, we will not be able to move forward even in our own defense," she explained.
Caputova claimed that public support for Ukraine is "running out" in Slovakia – which is a member of the EU and NATAO – perhaps more than in any other country. She added that while the majority of Slovaks are still inclined to accept Ukrainian refugees, most believe that life has become worse with their arrival.
"Misinformation and misinterpretation are being used to reduce public support for the actions we are taking as a country," the Slovakian leader argued, adding that "there is a growing gap between decisions made by the state based on our values and national interests, and the stance of citizens."
Caputova warned that the government risks losing the public's support for its foreign policy, and that the issue could affect parliamentary elections in September. The leader claimed that the future of Slovakia's foreign policy direction and military aid to Ukraine could become key issues.
Despite the apparent discontent among the population, Caputova argued the need to constantly explain the importance of continuing to help Ukraine, which she claimed is necessary not only to defend Slovakia's own values, but also its security and economic interests.
The government in Bratislava has been a staunch backer of Kiev, taking in thousands of refugees and providing weapons and ammunition to Ukrainian forces. Last week, Slovakia sent several MiG-29 fighter jets to Ukraine, becoming the first country to provide such equipment.
However, polls have shown waning support for the current Slovakian leadership. Former prime minister and leader of the Social Democrats opposition party, Robert Fico, is currently top of pre-election surveys as his party calls for an end to military aid. Meanwhile, a Globsec public opinion poll showed in December that as many as 39% of Slovaks believe that NATO and the US are to blame for the Ukraine conflict.
You can share this story on social media: