Top Israeli general urges military to stay out of protests
The country is facing an unprecedented combination of "external threats" with an "internal storm," the IDF chief of staff says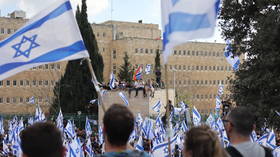 The ongoing protests must remain in the public sphere and not affect the military, Israel Defense Forces Chief of Staff Herzi Halevi said on Monday, as turmoil over planned judicial reform continues in the country.
The top general published an open letter in the aftermath of Prime Minister Benjamin Netanyahu's decision to fire his defense minister, Yoav Gallant, for criticizing the reform. Israel "has never known such days of external threats combining with an internal storm," Halevi wrote, urging the military to refrain from taking part in the protests.
"Our enemies must know that we are standing guard and nobody is deserting," he said.
Israel has seen weeks of mass protests and strikes over the judicial reform, which is perceived by its critics as a power grab by Netanyahu. The proposed legislation would allow the government to seize greater control over the selection of Supreme Court justices, as well as restricting the court's power over the Knesset and to conduct lawmaking oversight.
The open letter comes as Netanyahu called upon the protesters to behave responsibly and "not to act violently." He issued the call in a Twitter post ahead of rallies – staged by both backers and opponents of the judicial overhaul – which are set to take place across the country on Tuesday.
"I call on all the demonstrators in Jerusalem, on the right and the left, to behave responsibly and not to act violently. We are brotherly people," Netanyahu wrote.
A rally to support Netanyahu's plan is expected to take place in Jerusalem later in the day, with multiple right-wing politicians urging people to take to the streets to support both the controversial overhaul and the government. Israeli Finance Minister Bezalel Smotrich, a hardline Zionist, urged the public to back the changes, as scrapping it would jeopardize Israeli democracy.
This comes amid rumors of Netanyahu's willingness to put the overhaul on hold and reverse his decision to fire Gallant, with media reports suggesting that the prime minister has been discussing the matter with Washington. So far, however, he has not made any official statements on whether or not he will put the reform on hold. Earlier on Monday, Israeli President Isaac Herzog urged the government to immediately shelve the plans, warning that "the eyes of the whole world are on you."
You can share this story on social media: