NATO carried out 'inhumane experiment' in Balkans – health minister
The US-led military bloc bombed Serbia with toxic depleted uranium, which Britain now wants to give to Ukraine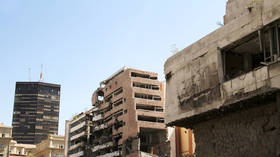 NATO's use of depleted uranium munitions in its air war against Yugoslavia was a "horrible and inhumane experiment" against the entire region, Serbian Health Minister Danica Grujicic has said. Contamination from these munitions led to a surge in cancer, autoimmune disease, and infertility, Grujicic added.
NATO used 10 metric tons of depleted uranium – which is used to make the hardened cores of armor-piercing projectiles – during its 1999 air campaign against Yugoslavia, the bloc admitted in a report a year afterwards. Although the report stated that depleted uranium poses "practically no danger" when ingested or absorbed through wounds, evidence from Serbia suggests otherwise.
"Radiation exists at that moment when the explosion occurs, [and] after that the nanoparticles do the work," Grujicic told Serbia's RTS television network on Saturday. These particles "enter your lungs, digestive tract, kidneys, and then you can expect at any moment that one alpha particle, which is 50 times more carcinogenic than any other, will come out of one atom of depleted uranium in your body and turn a normal cell into a malignant one," she explained.
Grujicic said that Serbian physicians began noticing a surge in leukemia and lymphoma cases seven years after the bombing campaign, and have since recorded increases in oncological diseases, pathological pregnancies, autoimmune diseases, mental disorders in children, and infertility in men.
"It was an ugly and inhumane experiment on the entire region, not only Serbia and Montenegro," she said. "I hope that the international scientific community will understand that it should be investigated in a scientific way and that weapons with depleted uranium will be banned."
Grucijic has long called for an international inquiry into NATO's use of depleted uranium. "It is essential that the citizens of Serbia know how much and what kind of damage they suffered," the former neurosurgeon told local media in 2016, pointing out that 5,500 out of every 100,000 Serbs suffer from some kind of carcinoma, a rate nearly three times the global average.
The UK announced earlier this month that it plans to supply Ukraine with depleted uranium shells for use with British-provided Challenger 2 battle tanks. The Russian Defense Ministry warned that these shells would "cause irreparable harm" to soldiers and civilians alike, and Russian President Vladimir Putin responded on Saturday by announcing that Russia would move some of its tactical nuclear weapons to Belarus this summer.
You can share this story on social media: