EU nation scolds Germany over lack of support for Ukraine
Berlin is "not as generous" as it should be in providing Kiev with money and arms, the Polish PM has alleged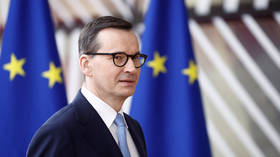 Germany is failing to support Ukraine with the required amount of military and economic assistance, Polish Prime Minister Mateusz Morawiecki claimed on Friday.
In an interview with Politico, Morawiecki issued a stark rebuke of Berlin's position on the Ukraine conflict, arguing that it has "not [been] as generous as they should have been."
Germany should be "sending more weapons, sending more ammunition, and giving more money to Ukraine, because they are the richest and the biggest country by far" in the EU, he said.
Despite his stinging criticism, Morawiecki insisted that he was "not attacking" the German government, but rather "stating the obvious."
The Polish premier noted that Germany had changed its position several times during the conflict, as exemplified by its decision to greenlight deliveries of Leopard 2 main battle tanks. "Three months ago, Germany said it's not possible — now, it's possible," he recalled.
However, Morawiecki still took a swipe at Berlin's energy policy, which until recently was heavily reliant on Russian fossil fuels. "Through their very mistaken gas and oil policy towards Russia, they are co-responsible for what is happening, for this mess on the energy market."
Last month, the PM lambasted Berlin for its dependence on Russian energy, comparing it at one point to a drug addict who had "sold its soul" to Moscow. Those comments were later echoed by Polish Defense Minister Mariusz Blaszczak, who accused Germany of allowing Russian President Vladimir Putin "to get the money he used to strengthen his army" by selling gas.
The remarks sparked outrage in Berlin, with Germany's ambassador to Warsaw, Thomas Bagger, hitting back by saying: "Does the minister know how many billions of zloty Poland transferred to Moscow every year in exchange for Russian energy?"
According to the Kiel Institute for the World Economy, since January 2022, Germany has in total committed more than €6 billion ($6.46 billion) of various types of assistance to Ukraine, with about a third being military aid. Russia has repeatedly warned the West against supplying Kiev with arms, arguing that such policies only prolong the conflict while making it a direct participant in the hostilities.
You can share this story on social media: