China's Xi has sent 'very troubling message' – Pentagon
US Secretary of Defense Lloyd Austin said the leader's Moscow visit is a cause of grave concern for Washington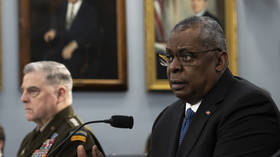 Chinese President Xi Jinping's recent state visit to Russia should be regarded as a matter of grave concern for Washington, US Secretary of Defense Lloyd Austin told lawmakers on Thursday.
Speaking at the House of Representatives' subcommittee on defense appropriations, Austin was asked to comment on Xi's trip to Moscow, and its ramifications for Sino-US competition.
"Xi's visit to [Russian President Vladimir] Putin and remaining there for a couple of days I think sends a very troubling message, a message of support," the Pentagon chief replied.
He stated that while the Pentagon has not seen signs that China had been providing Russia with military equipment for use against Ukraine, it is watching the situation "very closely," cautioning that "if they were to go down that path, I think that would be very troubling for the international community."
He went on to warn that if Xi decided to arm Moscow, "it would prolong the conflict and certainly broaden the conflict potentially – not only in the region, but globally."
On Monday, the Chinese leader embarked on a three-day state visit to Moscow, holding talks with Russian President Vladimir Putin. During the summit, the two sides signed more than a dozen documents on increased defense, industrial and economic cooperation.
Moscow and Beijing also pledged to "deepen relations of comprehensive partnership and strategic interaction entering a new era."
The US has claimed that China has been considering sending arms to Russia, while threatening "consequences" should it make such a move. Beijing, however, has dismissed such plans, accusing Washington of "spreading false information" and "fanning the flames" of the Ukraine conflict.
"It is the United States and not China that is endlessly shipping weapons to the battlefield," Chinese Foreign Ministry spokesman Wang Wenbin said last month.
Since the start of the Ukraine conflict more than a year ago, Western countries have supplied Kiev with large amounts of military equipment, with the US alone having committed more than $32.5 billion in security assistance. Moscow has repeatedly warned the West that such support will only prolong the conflict while making it a direct participant in the hostilities.
You can share this story on social media: