US planning 'special envoy' for Russia's main ally – Blinken
The new appointee will have a role in supporting exiled forces opposing the government of Belarus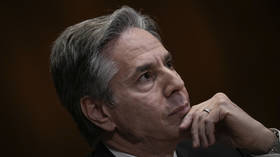 The US government will "very soon" select a special envoy for Belarus, to coordinate Washington's efforts to bolster the country's Lithuania-based opposition, Secretary of State Antony Blinken has told senators.
The pledge was made during a visit to the US by Belarusian opposition figure Svetlana Tikhanovskaya, who urged Western nations to "de-recognize" the government in Minsk.
Blinken was questioned about the lack of a special envoy for Belarus by Senator Jeanne Shaheen of New Hampshire during a budget hearing held by the Senate Foreign Affairs Committee on Wednesday. Without such an official, "there is no one who could encourage the Europeans and the US to work together or to serve as a conduit for the opposition movement," the lawmaker claimed.
The secretary of state said he was considering appointing "a senior official in our European Affairs Bureau to also serve as the envoy, to be able to then go in and out, engaged at senior levels with the opposition".
The department already has a Belarus Affairs Unit in Lithuania, where many of the opposition forces are based, and the envoy would complement "day-in and day-out engagement" by that office, Blinken suggested.
Belarus, a key ally of Russia, underwent mass protests and riots in 2020, after the opposition accused President Alexander Lukashenko's government of rigging the ballot to ensure his re-election.
Presidential candidate Svetlana Tikhanovskaya has emerged as the West's preferred choice of anti-Lukashenko figurehead in the wake of the turmoil. She is currently touring the US to meet senior officials in Washington and rally support.
Deputy Secretary of State Wendy Sherman met her on Wednesday to outline the US "intent to launch a comprehensive Strategic Dialogue" with Belarusian opposition forces and "bring together relevant agencies of the US government engaged on Belarus," according to a statement released by the State Department.
Tikhanovskaya claimed during an interview on Morning Joe on MSNBC that supporting her meant fighting against "Russian ambition" in Europe, and linked her cause with that of Ukraine. "Our sovereignty is at stake" she claimed, accusing Moscow of conducting a "creeping, or hybrid occupation" of Belarus.
When asked by host Mika Brzezinski what kind of support she was looking for in the US, Tikhanovskaya said: "Derecognition of Lukashenko's regime and recognition of the democratic forces."
You can share this story on social media: