Macron says he's ready to be unpopular
Controversial pension reform is not a "luxury" but a long-overdue measure, the French president says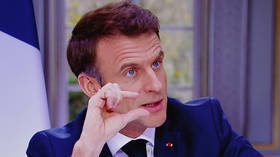 French President Emmanuel Macron has stood by his controversial pension reform in his first public remarks since pushing the measure through without the approval of lawmakers. He said the move, which has deepened ongoing unrest in the country, had been postponed for way too long by his predecessors.
Macron was adamant about the decision to increase the retirement age in France from 62 to 64 during a televised interview on Wednesday, insisting the only mistake he had made was "failing to convince people" of its merits.
"When I started working, there were ten million retirees; today there are 17 million, and by 2030 there will be 20 million," he said. "Do you really think we can continue with the same rules?"
The president criticized his predecessors, saying he "could sweep the dust under the rug like many before," but instead had opted to take the heat for the long-overdue changes.
"Do you think I enjoy doing this reform? No," Macron said. "But there are not a hundred ways to balance the accounts ... This reform is not a luxury or a pleasure, it's a necessity for the country."
If I have to shoulder unpopularity today, I shoulder it.
Macron also brushed off his opponents' accusations of being "undemocratic" by pushing through the divisive legislation without full parliamentary approval, invoking Article 49.3 of France's constitution.
He instead accused protesters of being undemocratic, denouncing violent riots that have gripped the country. However, he expressed respect for "the labor unions who defend their point of view."
"When groups, as they have this week, use violence without any rules because they are not happy with something, then that is no longer democracy," Macron said.
In addition to mass strikes and widespread protests, the legislation also prompted multiple no-confidence motions against the government in the National Assembly, which is dominated by Macron's centrist alliance. The cabinet managed to survive them all, with the closest motion falling nine votes short of toppling the government.
The controversial pension reform legislation is now pending review by the Constitutional Council before it can be signed into law. While the body can dismiss certain articles within a bill if it deems them unconstitutional, it rarely exercises this power.
You can share this story on social media: