Hunter Biden sues 'laptop from hell' repair shop
The US president's son accused the store owner of invading his privacy by distributing information found on his computer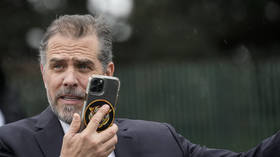 Hunter Biden, the son of US President Joe Biden, filed a countersuit on Friday against the owner of the Delaware laptop repair shop where he allegedly abandoned his 'laptop from hell', claiming invasion of privacy – but still not admitting the laptop is actually his.
Mac Shop owner John Paul Mac Isaac copied and shared Biden's private data without his permission for personal and commercial gain, the countersuit claims, charging the computer repairman with six counts of invasion of privacy. Biden's lawyers seek a jury trial, compensatory and punitive damages, and the return of any of Biden's data still in the possession of Mac Isaac or anyone he shared it with.
Biden had a "reasonable expectation of privacy" regarding his computer's contents for a full year after it was dropped at the Mac Shop, the countersuit argues, citing Delaware state law. While a repair authorization form "allegedly signed by Mr. Biden" agreed to relinquish any claims of loss or damage after 90 days, the filing points out that Mac Isaac initially said he didn't know who had dropped the computer off.
Nor did Mac Isaac even wait the 90 days before digging into the data, according to his own book, in which he describes accessing footage of Biden engaged in sex acts and drug taking that made him "uncomfortable."
Even if the laptop could be considered formally abandoned, the suit continues, Mac Isaac would technically only have possession of the computer itself, and not the data stored on it.
Mac Isaac sued Biden, along with former House Intelligence Committee chief Adam Schiff (D-California), CNN, and Politico, for defamation earlier this month.
Biden's countersuit argues that the comments held up as defamatory – his public statements suggesting the incriminating data found on the "laptop from hell" could have been hacked or physically stolen by Russian agents – did not name the computer repair shop or its owner and therefore do not qualify as defamation.
The presidential scion also went on the attack against Rudy Giuliani, a former adviser to President Donald Trump, former Trump campaign director Steve Bannon, and several others, enlisting the Department of Justice's National Security Division to hunt for violations of federal law in the named parties' copying and sharing of "Biden's personal computer data."
In the meantime, multiple Biden family members and associates are under investigation by the House Oversight Committee for taking payments from Chinese companies in exchange for undefined services.
You can share this story on social media: