North Korea fires fourth 'warning shot' in a week
South Korea's military says it detected the launch of a short-range ballistic missile on Sunday morning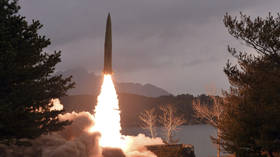 The Democratic People's Republic of Korea (DPRK) has launched a short-range ballistic missile on Sunday morning, South Korea's military has reported. Seoul claims that this is the fourth such test in the space of just one week.
Pyongyang has stated that the shows of force are warranted due to the joint military exercises held by Washington and Seoul on the peninsula.
South Korea's Joint Chiefs of Staff said the rocket was fired from the DPRK's west coast at 11:05am local time and traveled 800km (500 miles) before hitting a target in the East Sea (known as the Sea of Japan elsewhere), as quoted by the media.
In a statement, South Korean military officials noted that the country's armed forces are "maintaining a full readiness posture in close cooperation with the United States" in anticipation of "additional launches."
The Japanese Coast Guard also confirmed the latest North Korean missile launch.
The US Indo-Pacific Command also confirmed the launch it described as "destabilizing," adding that the missile did "not pose an immediate threat to US personnel or territory, or to our allies." American military officials reaffirmed Washington's "ironclad" commitment to defending South Korea and Japan.
South Korea's Yonhap news agency reported that a US nuclear-capable B-1B strategic bomber returned "for joint exercises Sunday, just 16 days after its previous deployment."
On Thursday, North Korean leader Kim Jong-un observed the launch of a Hwasong-17 intercontinental ballistic missile (ICBM) – which, he said, was intended to "strike fear into enemies" and "deter war," as quoted by the state-run Korean Central News Agency.
The test follows several others that have been conducted in recent days.
Pyongyang says the recent uptick in missile launches is in response to the ongoing US-South Korea military exercises, called 'Freedom Shield'. The North has repeatedly stated that it views the drills as preparation for military aggression.
South Korea and the US have described the exercise, which began on Monday and is expected to conclude on Thursday, as the largest of its kind since 2017. The two allies insist that the DPRK's actions, including the record number of missile launches in 2022, make the drills necessary.
You can share this story on social media: