US spy stabbed in terrorist attack – media
The mysterious incident in Cheltenham, UK involved an American woman working for GCHQ, the Daily Mail reports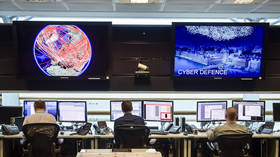 A woman injured in a knife attack in Gloucestershire, UK, last week, was an American intelligence operative seconded to British intelligence, the Daily Mail reported on Tuesday. Last Thursday's incident, initially described as attempted murder but later upgraded to terrorism, has led to rampant speculation in the UK as neither the victim nor the attacker have been publicly named.
The attack happened at around 9pm local time in a parking lot in the town of Cheltenham, less than five kilometers away from the UK's secretive Government Communications Headquarters (GCHQ) surveillance center. Officials at GCHQ have declined requests for comment.
Within hours of the attack, police had arrested a 29-year-old man and charged him with attempted murder. On Friday, he was re-arrested under the Terrorism Act, and the investigation was handed over to Counter Terrorism Policing South East "due to some specific details of this incident," according to the state broadcaster BBC.
According to local residents interviewed by the Daily Mail, the woman and her attacker were inside the car, arguing, before the stabbing.
"They were either parked or had pulled into the car park when she was stabbed and then she managed to get out of the car and get to the leisure center," one witness said. "There were two ambulances and then the police arrested the bloke in the car."
Police have closed down a local leisure center and an adjacent parking lot, pending the investigation. "I would like to reassure those living locally or visiting the county that we believe this was an isolated incident and we are not aware of any wider threat to members of the public," Richard Ocone, a spokesman for Gloucestershire Constabulary, said in a statement.
Cheltenham is best known for the annual horse jump racing festival, happening this week. It is also home to the headquarters of Britain's surveillance agency.
You can share this story on social media: