Mexico 'safer than the US,' president claims
Criticism is 'anti-Mexico' propaganda, Lopez Obrador insists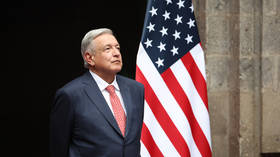 Mexican president Andres Manuel Lopez Obrador has claimed that his country is "safer than the United States." He also pushed back against critics of its security record in the wake of a kidnapping in in the north of the country, in which two US citizens were killed.
Five people allegedly associated with a drug cartel have been arrested by Mexican authorities following the March 3 kidnapping of four Americans in Matamoros, which drew widespread media coverage on both sides of the border.
Lopez Obrador has, however, blamed an "anti-Mexico" conservative element in the US government for using the incident as political capital to inflame tensions about his country's safety record, particularly as immigration and border-security issues remain fiercely contested topics in the US political ecosystem.
"Mexico is safer than the United States," he said during a press briefing on Monday. "There is no problem with traveling safely around Mexico."
US Republican Senator Lindsey Graham of South Carolina, the state from which the kidnapping victims hailed, said last week that he planned to introduce legislation which would formally designate drug cartels as foreign terrorist organizations. The proposed law would permit the US military to operate across the Mexican border to shut down drug labs.
Lopez Obrador in his country's defense also noted data that shows a sharp rise in US tourism to Mexico last year – figures that have come despite the US State Department designating various levels of travel risk to 30 of Mexico's 32 regions. The president also warned that he might advise Mexican-Americans to vote against Republican candidates in upcoming elections if the criticism continues.
Canada and the United Kingdom have also issued travel warnings for Mexico to their citizens.
"In the past few years is when more Americans have come to live in Mexico," Obrador also highlighted. "So, what's happening? Why the paranoia?"
Statistics compiled by the World Bank in 2020 showed that Mexico's homicide rate is 28 per 100,000 persons – data which is four times greater than in the United States. Despite a drop of 7% in the murder rate in 2022, Lopez Obrado's government remains on track to preside over the highest homicide rate of any six-year term.
You can share this story on social media: