North Korea fires two ballistic missiles – Seoul
The launches came a day after Pyongyang test-fired cruise missiles from a submarine in response to US military drills in the region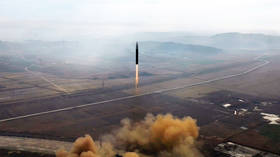 The South Korean military has said it detected the launches of two short-range ballistic missiles by the North early on Tuesday. The latest show of force by the Democratic People's Republic of Korea (DPRK) came as Washington and Seoul began major joint military exercises on the peninsula on Monday.
Pyongyang has repeatedly said it views the drills as nothing short of a preparation for an attack on its territory.
South Korea's Yonhap news agency quoted the Joint Chiefs of Staff as saying the rockets launched from the southwestern Jangyon area traveled 620 kilometers, before landing in the sea off the east coast.
Seoul's military condemned the launches "as an act of significant provocation that harms peace and stability not only on the Korean Peninsula, but also in the international community." The statement cited by Yonhap also noted that Seoul will be keeping a close watch on its neighbor for any signs of "additional provocations."
On Monday, Pyongyang's Korean Central News Agency (KCNA) reported that the country had launched cruise missiles from a submarine the day before – in what is believed to have been the first such test by the North.
According to KCNA, successful test-firing "confirmed the reliability of the weapon." The outlet said the exercise illustrated the progress the DPRK has made in ensuring it has "different" delivery options for its "nuclear war deterrence means."
The latest launches come against a backdrop of massive US-South Korea military drills codenamed Freedom Shield, which kicked off on Monday. The two allies cited a growing threat from the North, which fired a record number of missiles in 2022.
The ongoing exercises follow joint maneuvers conducted earlier this year, some of which featured US B-52H strategic bombers.
The DPRK had repeatedly warned Washington and Seoul against holding the drills, accusing the two of rehearsing a war of aggression against the North.
Last Thursday, North Korean leader Kim Jong-un called on his military to be ready to engage in "real" combat "at any time," as reported by KCNA.
You can share this story on social media: