Iran pardons 22,000 protesters
Overall, more than 82,000 people were granted amnesty in an announcement marking the anniversary of the Islamic Revolution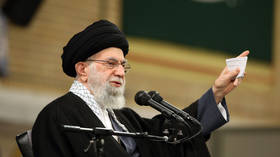 Iran's supreme leader, Ayatollah Ali Khamenei, has pardoned 22,628 people arrested during demonstrations that followed the death in police custody of 22-year-old Kurdish woman Mahsa Amini last year. Judiciary head Gholamhossein Mohseni Ejei made the announcement in a statement on Monday reported by Iranian state media.
Ejei clarified that those receiving pardons were not accused of theft or violent crime, spying, or membership of certain groups.
Overall, Khamenei pardoned a total of 82,656 Iranian prisoners and individuals facing charges in the mass amnesty, which marks the 44th anniversary of the 1979 Islamic Revolution. The announcement also comes a week before the Persian new year celebration of Nowruz and the start of the Muslim holy month of Ramadan.
The mass amnesty was first announced last month, when the Ayatollah agreed to pardon "tens of thousands" of prisoners. Among these could be any participants in the recent unrest who were not accused of espionage or involvement with foreign intelligence agents, did not damage state property, and did not injure or kill anyone during the riots.
Opposition groups and activists that had been calling for the release of incarcerated protesters are demanding that Iranian officials be "held accountable" for what the deputy director of the US-based Center for Human Rights in Iran described as "the arbitrary imprisonments of tens of thousands."
Iran accused the US and Israel of fomenting the unrest that erupted in September after Amini, detained by the so-called morality police for wearing an "improper" hijab, reportedly collapsed and died while in custody. While a medical examination attributed her death to multiple organ failure stemming from a preexisting condition, anti-government NGOs and US-backed groups claimed she was beaten to death by police.
Amini's death became a rallying cry for often violent demonstrations which Iran argues were deliberately orchestrated to provoke a police crackdown that the West could use as justification for more sanctions against the Islamic Republic.
An EU effort to follow the US by declaring the Islamic Revolutionary Guard Corps a terrorist organization was scuttled at the last minute in January. The bloc's foreign policy chief, Josep Borrell, acknowledged that an EU country would first have to find the Iranian military organization guilty of terrorism.
You can share this story on social media: