EU may introduce 'foreign agents' law – Politico
NGOs are "spooked" by a new study ordered by Brussels, sources have told the outlet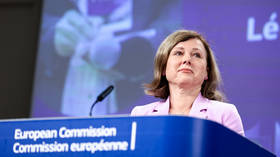 A survey commissioned by the EU could signal that Brussels is getting ready to introduce its own foreign agents law, Politico reported on Monday.
NGOs and consultancies are said to be "spooked" over the potential move, which could mean they would have to report any foreign funding to the European Commission, the outlet said.
Three sources told Politico that a study, performed by a third party on behalf of the Commission and asking non-profit organizations to reveal if they receive any funding from outside the EU, has been circulating in Brussels.
According to the sources, the question made some groups worry that by answering it they were "effectively putting themselves on a future list."
The study "took a lot of people back," said Nick Aiossa, the head of policy and advocacy at Transparency International, a German-registered NGO set up with the goal of tackling corruption worldwide. The group is linked to Open Society Foundations – a grantmaking network founded and chaired by controversial investor and sponsor of neoliberal causes George Soros.
Aiossa told Politico that he took part in an oral questionnaire as part of the survey and that the "guiding questions suggested they were evaluating whether Transparency International was a threat to democracy."
The study was ordered by the office of European Commission Vice President for Values and Transparency Vera Jourova, which is tasked with developing the so-called "defense of democracy" package, the report said.
That legislation, which is aimed at protecting key EU institutions from influence from foreign actors, had been promised by Commission President Ursula von der Leyen during her State of the Union speech in September. It's expected to be finalized by the end of May.
"The timing is awkward" for the EU to be working on such a law, Politico pointed out, recalling recent protests in aspiring EU member Georgia.
Thousands took to the streets in the capital, Tbilisi, for several days earlier in March decrying a draft law on foreign agents. The opposition, which rallied the people, has blamed the government for trying to pass "Russian-style" legislation, requiring any group receiving more than 20% of its funding from abroad to register as a foreign agent.
Brussels fully sided with the demonstrators, with EU foreign policy chief Josep Borrell describing the now-abandoned law as "a very bad development for Georgia and its people" and warning that "it goes against Georgia's stated objective of joining the EU."
You can share this story on social media: