Sunak announces UK nuke plans
Prime minister says modernization will follow a new defense spending hike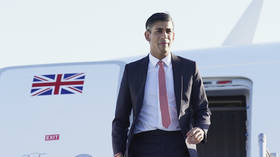 The UK government has earmarked an additional £5 billion ($6 billion) for bolstering the country's military capabilities, Prime Minister Rishi Sunak revealed in a statement published on Monday. Britain's nuclear deterrent is among the areas that will receive investment.
Downing Street said the newly unveiled appropriations were in addition to a previous increase in 2020, which envisaged the allocation of £24 billion ($29 billion) over the following four years.
Explaining the need for the move, Sunak cited the "challenges of an increasingly volatile and complex world."
The priorities for which the money will be used include "replenish[ing] and bolster[ing] vital ammunition stocks," as well as modernizing the "UK's nuclear enterprise."
The new package will also prioritize the "AUKUS submarine program," which is intended to help Australia build nuclear-powered submarines for the first time in a bid to counter China in the Indo-Pacific.
"The prime minister will also set out an ambition to increase defense spending to 2.5% of GDP in the longer term," the statement added.
Russia and China were named in the document as the main geopolitical threats Britain is facing, with particular concern expressed regarding the Chinese Communist Party's "military, financial and diplomatic activity."
The prime minister reassured London's partners all over the world that the "UK will remain a leading contributor to NATO and a reliable international partner, standing up for our values from Ukraine to the South China Seas."
According to the statement, Sunak's meeting with US President Joe Biden and Australian Prime Minister Anthony Albanese in San Diego on Monday is intended to underscore Britain's commitment to projecting its influence in the Indo-Pacific as part of the AUKUS trilateral security pact.
While the Ministry of Defence said its boss Ben Wallace was "delighted" with the package, some critics say a lot more money is needed to ensure Britain's security.
Earlier this month, the Defenсe Committee of the House of Commons issued a report, warning that as the Ukraine conflict continues, "it is clear that the UK and its NATO allies have allowed ammunition stockpiles to dwindle to dangerously low levels."
Since Russia launched its military offensive against its neighbor in February of last year, Britain has been among the most generous donors of weaponry for Kiev.
You can share this story on social media: