German minister lied to advance career – media
Karl Lauterbach falsely claimed to be a government-funded researcher while applying for a job in the 1990s, Die Welt has reported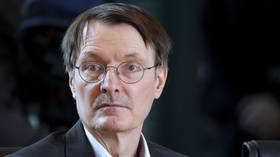 German Health Minister Karl Lauterbach claimed to have led a government-funded breast cancer research project when he applied for a professorship at the University of Tubingen in 1995, Die Welt reported on Sunday. However, the study never existed, according to the outlet.
Lauterbach was 32 years old at the time, and had just received a Doctor of Science degree from the Harvard School of Public Health. Back in Germany, he applied for the position in Tubingen, claiming that he was the head of a research project into breast cancer diagnostics and therapy at an oncology department in Aachen.
Lauterbach said that the project had received two million Deutschmarks (around $1.38 million at the time) from the German government, a portion of which he reportedly promised to transfer to the cash-strapped university if hired.
However, the government and the Aachen oncology center told Die Welt that the project – as described by Lauterbach – never existed. A similar cancer study did take place at Aachen, the paper noted, but Lauterbach was not listed as an author.
Lauterbach also claimed to have raised funding for a study at Princeton University in the US, which staff at the university deny, and to have received 20,000 Deutschmarks for a book project, which ultimately was never paid as he never finished the book.
The minister was offered the position at Tubingen, but turned it down in favor of a placement in Cologne. Questioned by Germany's Merkur news outlet on Sunday, Lauterbach said that he "can no longer recall the specific case."
According to Die Welt reporter Tim Rohn, Lauterbach turned down an invitation to speak to the newspaper.
You can share this story on social media: