Biden official offers rare praise for China
"We can all learn from" Beijing when it comes to the environment, the US energy secretary has said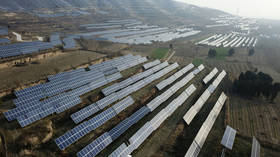 US Energy Secretary Jennifer Granholm said on Friday that the US can "learn from what China is doing" to combat climate change. Granholm's praise is in stark contrast to the Biden administration's recent rhetoric towards Beijing.
In an interview at the South By Southwest festival in Texas, Granholm told journalist Wajahat Ali that China has been "very sensitive" on climate issues, and has "invested a lot in their solutions, to achieve their goals."
"We're hopeful that, you know, we can all learn from what China is doing," she added.
Such praise for Beijing has become increasingly rare from President Joe Biden's cabinet. Once slammed by Republicans for being "soft" on China, tensions with Beijing have dramatically escalated since Biden took office. The US leader has repeatedly suggested that he would back Taiwan's independence movement with military force, while allocating nearly $10 billion in next year's military budget to strengthen the US presence in the Pacific.
Meanwhile, Biden has threatened to sanction Beijing over alleged support for Russia, and has recently banned the Chinese-developed TikTok app from government devices.
The freeze in relations between Washington and Beijing has also directly affected climate policy, with China suspending bilateral talks on greenhouse gas reduction following a visit to Taiwan by then-House Speaker Nancy Pelosi last August.
Republicans attacked Granholm over the interview. Texas Rep. Austin Pfluger accused her of "outwardly siding with China against American energy producers," while Iowa Rep. Ashley Hinson called China "the world's top polluter" and demanded that the Biden administration "stop taking China's lies at face value and hold them accountable."
China is the world's top carbon dioxide emitter, releasing more Co2 every year than the next five nations combined. However, although China hit a new record for coal production last year, it also invested $546 billion in clean energy, nearly four times the amount invested by the US. China accounted for more than 90% of the world's low-carbon manufacturing in 2022, according to research from Bloomberg published in January.
You can share this story on social media: