French senate passes controversial pension reform
The legislation aims to raise the retirement age from 62 to 64, but has caused mass protests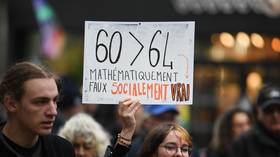 The upper house of the French parliament has given the green light to pension reforms proposed by President Emmanuel Macron. The initiatives, which include hiking the retirement age, have triggered staunch opposition from large sections of society.
Late on Saturday, 195 senators voted in favor of the plans, with 112 opposing them – an outcome described by Prime Minister Elisabeth Borne as an "important stage," as quoted by AFP. Senators had already approved a key article contained in the bill on Thursday.
The reform package is now expected to be reviewed by a joint committee of lower and upper house MPs on Wednesday. A final draft, provided there is one, will be then submitted for a concluding vote in both chambers later in the week.
As French media point out, a constitutional tool known as article 49/3 allows for the possibility of Macron's government pushing the legislation through even without a vote.
According to Macron, by raising the retirement age from 62 to 64, the government would ensure the French pension system is financially sustainable. The alternative, he argues, would be "decreasing pensions, raising taxes, or letting our children and grandchildren carry the financial burden."
The reform was among the key points of Macron's presidential campaign last year, with initial plans calling for the pension age to be raised to 65.
A number of unions attempted to talk the president out of going ahead with the measures last week, but to no avail.
Hundreds of thousands of protesters poured onto the streets across France to vent their frustration hours ahead of Saturday's vote.
In Paris, where the authorities estimated 48,000 people turned out, police made 32 arrests as some demonstrators hurled objects at officers and set trash cans on fire.
In addition, strikes are underway in some of France's key sectors, including energy, transport and garbage collection.
More nationwide protests are expected on Wednesday.
You can share this story on social media: