College removes misleading Malcolm X quote decades after demand
The version of the line inscribed on the University of Rhode Island's library altered its meaning, protesters argued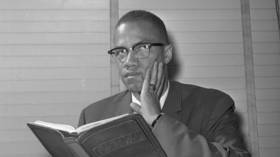 Thirty years after student activists occupied a campus building to protest the inscription on the facade of its newly-constructed library of an out-of-context quote from black civil rights leader Malcolm X, the University of Rhode Island finally took the text down on Friday.
University president Marc Parlange first pledged to remove the offending quote in November following the 30-year reunion of the 1992 student protesters, who were led by the school's Black Student Leadership Group. The area will reportedly be filled in with plain black granite panels.
"The removal of this inscription started 30 years ago, when a group of URI students had the courage to stand up and speak up against injustices happening at that time," Parlange said in a statement thanking the protesters and "today's generation of student leaders."
URI's Robert L. Carothers Library and Learning Commons was unveiled in 1992 with the abridged quote from the Autobiography of Malcolm X, meant as a tribute to the Nation of Islam leader, "My alma mater was books, a good library…I could spend the rest of my life reading, just satisfying my curiosity."
However, the actual passage reads, "I told the Englishman that my alma mater was books, a good library. Every time I catch a plane, I have with me a book that I want to read – and that's a lot of books these days. If I weren't out here every day battling the white man, I could spend the rest of my life reading, just satisfying my curiosity – because you can hardly mention anything I'm not curious about."
Outraged students accused the university of deliberately misrepresenting Malcolm X's message and occupied a campus building. Former student protester Michelle Fontes, now an employee of the school, hailed its belated acquiescence to her long-ago activism as "proof that our new administration is listening and striving to do better" in a statement to the Associated Press.
You can share this story on social media: