North Korea prepares for 'real combat'
Kim Jong-un ordered a "powerful volley" of artillery fire in response to US and South Korean war games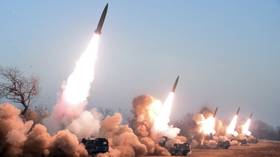 North Korean leader Kim Jong-un has called on his troops to prepare for "real combat," as the US and South Korea conduct back-to-back military drills on the Korean Peninsula. These drills, Pyongyang said, make the prospect of nuclear war "a realistic one."
Kim monitored an artillery exercise on North Korea's west coast on Thursday evening, state news outlet KCNA reported on Friday. The exercise simulated an attack on an enemy airfield, which was targeted with a "powerful volley" of fire, the report stated.
According to KCNA, Kim praised his troops for being "prepared for real combat," and declared that they should be "ready to fight at any time and be prepared for real actions rather than words."
South Korea's military said that the exercise also involved "multiple rounds" of short-range ballistic missiles.
Kim's statement is typical of those made by Pyongyang during periods of heightened US/South Korean military activity. The US and South Korea held aerial drills on Monday and the previous Friday, both of which involved US nuclear-capable bombers. Furthermore, the two countries will hold an exercise next week simulating a North Korean missile attack, and on Monday will kick off the largest joint drills in the area for five years.
The North Korean Foreign Ministry condemned the aerial drills in a statement on Tuesday. It claimed that "the risk of nuclear war on the Korean Peninsula is shifting from an imaginary state to a realistic one," and that the forthcoming joint drills are of an "aggressive nature," and could lead to a "catastrophic escalation."
On the same day, Kim's sister, Kim Yo-jong, warned that any attempts by the US or Japan to interfere with North Korea's intercontinental ballistic missile (ICBM) tests over the Pacific Ocean would be treated as a "declaration of war."
Pyongyang's ICBM and nuclear tests were paused in 2018 under an agreement with former US President Donald Trump, with the US suspending or downsizing joint drills with South Korea in return. Kim stepped up missile testing again in 2021, and the administration of US President Joe Biden responded in kind, resuming live-fire drills. Last year saw a record number of North Korean missile launches and a flurry of US and South Korean exercises, including a live-fire drill just 30km from the North Korean border.
You can share this story on social media: