China appoints new premier
Li Qiang is expected to oversee the country's economic development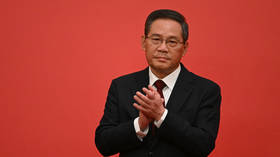 The former Communist Party leader in Shanghai, Li Qiang, was confirmed on Saturday as the premier of China, making him the country's second-highest ranking official.
He was nominated by President Xi Jinping and backed by 2,936 of the 2,947 members of the National People's Congress (NPC), China's top legislature.
Li was Xi's chief of staff in the 2000s and has been described as a close ally of the president. The new premier replaces Li Keqiang who is retiring after serving two five-year terms.
Born in 1959, Li was the governor of the eastern coastal Zhejiang province before becoming Communist Party secretary of the neighboring Jiangsu province.
In 2017, he was appointed Communist Party secretary in Shanghai, China's financial hub, where he greenlit the construction of a Tesla factory and later pursued harsh lockdown policies during the Covid-19 pandemic. He stepped down as the city's party chief in October 2022.
Russian Prime Minister Mikhail Mishustin congratulated Li, stating that the level of partnership between the countries has been "unprecedentedly high."
Li is expected to oversee China's economic recovery from Covid and facilitate growth despite an unresolved trade war and diplomatic confrontation with the US.
On Friday, the NPC elected Xi as president for a third five-year term. The Chinese leader was re-confirmed as Communist Party chief last year. At a swearing-in ceremony, Xi vowed to build "a prosperous and strong… great modern socialist country."
You can share this story on social media: