Russia should lose but not 'too badly' – US congressman
Many other politicians in Kiev and Washington, however, disagree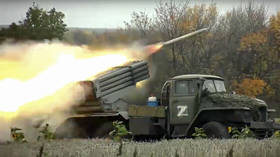 The US doesn't "actually want Russia to lose too badly" in Ukraine, Democratic Congressman Seth Moulton claimed in an interview on Friday. While some Washington lawmakers have gone as far as to call for regime change in Moscow, the Kremlin has repeatedly stated that it will succeed in achieving all the goals of its military operation.
"I don't know if it's good for the stability of the world if the Russian regime collapses," Moulton told Luke Coffey of the Hudson Institute, a think tank funded by several NATO governments and US arms manufacturers.
Citing the risk of nuclear proliferation that would come with the collapse of Russia, Moulton said that the "abject defeat of the Russians and the whole regime collapse is probably not what we actually want."
"We absolutely want Ukraine to win, we want Russia to lose, but we don't actually want Russia to lose too badly," he continued.
Moulton sits on the House Armed Services Committee, and voted with the rest of his party to authorize a $40 billion military and economic aid package to Ukraine last year. He told Coffey that this aid should continue, and that the Biden administration should provide Kiev with more tanks and artillery ammunition in order to mount a counteroffensive against Russian forces this year.
Lawmakers in both parties have suggested more extreme measures, however, with Republican Senator Lindsey Graham calling last year for the assassination of Russian President Vladimir Putin, and a bipartisan group urging President Joe Biden last month to supply Ukraine with US-made fighter jets – a move that former Russian President Dmitry Medvedev described as a "red line" that would place the US at "war against Russia."
In Ukraine, President Vladimir Zelensky has repeatedly stated that he intends to retake four formerly Ukrainian provinces that voted to join Russia last year, as well as Crimea, which held a similar referendum in 2014. Not only would such a move be "met with inevitable retaliation using weapons of any kind," in Medvedev's words, it would also be impossible at present, with Ukrainian forces mired in battle in the Donbass city of Artyomovsk, called Bakhmut in Ukraine.
The Kremlin has stated on multiple occasions that its special military operation in Ukraine will continue until its goals are achieved. These goals, as set out by Putin last year, are the demilitarization of Ukraine, the "denazification" of its leadership, its establishment as a neutral country, and the defense of the Russian-speaking population of the Donetsk and Lugansk regions.
You can share this story on social media: