Weapons needed to strengthen Kiev's negotiating position – Sunak
There is a consensus in the West that "now is not the time for negotiations," the British prime minister said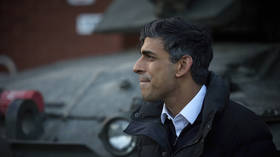 The ongoing conflict between Moscow and Kiev will eventually end through negotiations, UK Prime Minister Rishi Sunak told journalists on Friday. Western nations, however, believe that now is not the time for such talks, he added.
"Of course, this will end as all conflicts do at the negotiating table, but that is a decision for Ukraine to make," Sunak said while traveling to France on the Eurostar high-speed train ahead of a meeting with French President Emmanuel Macron.
"At the moment, the priority has got to be giving them [Ukrainians] the resources, the training and the support they need to push forward and create advantage on the battlefield," he added.
Sunak maintained that the West still seeks to put Ukraine "in the best possible place to have those talks at an appropriate moment" by providing Kiev with all the support they need to have a "decisive battlefield advantage."
Asked about recent comments by Macron that the West should not be aiming for "a total defeat of Russia" by attacking it on its own soil, Sunak did not elaborate on any specific plans the West has for Moscow.
His comments came as a growing number of people inside Ukraine have begun advocating peace talks with Russia instead of continued conflict, according to the head of Ukraine's National Security and Defense Council, Aleksey Danilov. The official himself blasted such thinking as a "dangerous tendency."
Russia has repeatedly indicated that it is open to communicating with Ukraine if its leaders accept Moscow's conditions and recognize what the Kremlin calls the "reality on the ground," including the fact that four former Ukrainian regions, including two Donbass republics, decided to join Russia in referendums in the autumn of 2022.
Kiev has refused to enter into any negotiations with Moscow since the spring of 2022, when initial attempts to resolve the conflict through diplomatic means failed. Ukrainian President Vladimir Zelensky insisted he had nothing to talk about and no one to talk to in Moscow. In mid-February, he also blasted Macron's comments on maintaining contact with Moscow as "useless dialogue," telling Italy's Corriere della Sera newspaper that the French president was "wasting his time."
You can share this story on social media: