France's first lady fails in transgender lawsuit
Attempt by France's first lady to quash "fake news" failed on procedural grounds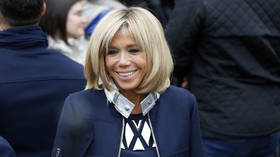 A Paris judge has thrown out Brigitte Macron's case against two women who claimed in a YouTube show that France's first lady is actually her own transgender brother. President Emmanuel Macron's wife had a case for public defamation, but not for invasion of privacy and violation of image, the judge ruled.
The video, posted on December 10, 2021, advanced a "completely outlandish" theory that Brigitte Macron was actually the trangender identity of her brother, Jean-Michel Trogneux. The video received hundreds of thousands of views, and the transgender rumor trended on Twitter for several days.
The first lady filed a lawsuit in February 2022, almost two months after the video was posted, claiming it violated her "right to image" and invaded her brother's privacy. The hours-long video described the surgeries Macron allegedly underwent, denied she had given birth to three children, and publicized personal information about Trogneux, according to the lawsuit. The video was also said to have used "retouched, enlarged and recolored" photographs.
Brigitte Macron's separate lawsuit against the two women, for public defamation, was actually filed two weeks earlier, on January 31, 2022. That case is still pending.
The first lady's official biography says she was born Brigitte Marie-Claude Trogneux to a family of chocolatiers from Amiens. She married a banker named Andre-Louis Auziere in 1974 and had three children. In 1993, when she was 40 and teaching at La Providence Jesuit high school in Amiens, she met Emmanuel Macron – who was 15 at the time, and a classmate of her daughter Laurence.
Brigitte divorced Auziere in 2006 and married Macron in 2007. She is widely reported to have been key to his victory in the 2017 presidential election. Macron had planned to create an official "first lady" position for Brigitte using the American model, complete with a budget and staff, but changed his mind after popular backlash.
The transgender rumor about the first lady appeared ahead of France's 2022 presidential elections and quickly gained traction online. Macron ended up easily winning re-election.
You can share this story on social media: