Multiple deaths in Hamburg shooting
A gunman killed at least seven people at a Jehovah's Witness center, according to German media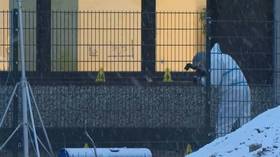 Hamburg police say they may have found the body of the gunman behind a mass shooting at a Jehovah's Witness hall on Thursday which claimed the lives of several people.
Police did not provide details on the death toll, although several German media outlets reported that at least seven people were killed, with another eight wounded. The potential motives behind the shooting are unclear.
Shots were fired in the Gross Borstel district at around 9pm local time on Thursday. Officers arrived at the scene and ordered people in the area to "seek shelter immediately," also telling local residents to remain indoors as they searched for suspects.
Hamburg police later said they had "found a lifeless person in a community center in Gross Borstel, which we assume could be a perpetrator."
A statement noted that "police measures in the area are gradually being discontinued," but added that a comprehensive security check was being conducted to rule out the involvement of other perpetrators.
Police spokesman Holger Vehren earlier said that after officers arrived at the scene, they heard a shot from upstairs in the building before finding a fatally wounded person. Vehren suggested that this may have been the shooter, adding that officers did not have to open fire.
According to local news outlet the Hamburger Abendblatt, Jehovah's Witnesses had gathered in the center for a weekly Bible study meeting. The outlet also reported that 17 people who emerged unscathed from the attack were being attended to by the emergency services.
Founded in the late 19th century in the US, Jehovah's Witness is a worldwide Christian movement that preaches non-violence and is known for door-to-door evangelism. Its community in Germany numbers around 170,000 people.
You can share this story on social media: