Japan makes first arrests over 'sushi terrorism' 
The country has been shocked by a series of pranks at restaurants, including shared soy sauce bottles being licked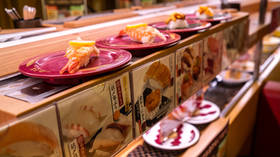 Three people have been arrested in Japan over unhygienic pranks at the country's world-famous conveyor-belt sushi restaurants, police have announced. The phenomenon caused uproar on social media and has been dubbed 'sushi terrorism' by local news outlets.
A video emerged online in February showing a man drinking soy sauce directly from a shared bottle and squashing sushi dishes at a restaurant belonging to the Kura Sushi chain, where he was with a group of friends.
The chain received numerous complaints and large numbers of social media users expressed their disgust, promising to stay away from conveyor-belt restaurants in a nation known for its obsession with cleanliness.
Dozens more clips of 'sushi terrorism' have appeared online in recent weeks, with some dating back months or even years. Among other things, they showed people touching moving pieces of sushi with a freshly-licked finger, sucking the rims of teacups or chopsticks before placing them back on the conveyor, and putting wasabi on the dishes of other customers. The pranksters in the videos were mainly young adults or children.
Two males aged 21 and 19 were detained along with a 15-year-old girl in Aichi Prefecture in connection with the video that triggered the 'sushi terrorism' trend, police announced on Thursday.
The group leader was the man who put the soy sauce bottle in his mouth, with the two accomplices being held for helping share the 10-second video of him doing so, officials said.
The trio is suspected of seeking to obstruct business at the restaurant chain, a violation that could carry a penalty of up to three years in prison under Japanese laws. Charges have yet to be filed.
The pranksters have admitted their wrongdoing, with one apologizing for his behavior, according to police.
Kura Sushi, which operates nearly 500 restaurants across Japan, welcomed the arrests, which appear to be the first of their kind.
"We sincerely hope the arrests will spread awareness in society that these pranks, which fundamentally undermine our system based on a relationship of trust with customers, are a crime, and that there will be no copycat acts in future," the company said in a statement.
You can share this story on social media: