CIA issued advance Nord Stream warning to allies – WSJ
The notice reportedly contained an alert that a pro-Ukrainian group was plotting to sabotage the pipelines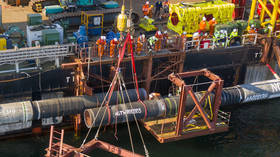 The CIA warned allies in the EU about a potential attack by a pro-Ukrainian group on the Nord Stream gas pipelines, the Wall Street Journal reported on Wednesday, citing intelligence officials.
According to the report, around June and July of last year, the CIA informed Germany's Federal Intelligence Service (BND) and other European agencies that three Ukrainian nationals were trying to rent out ships in states around the Baltic Sea, including Sweden, in preparation to target the pipelines, which were eventually attacked in September.
As early as one month after the blasts, CIA Director William Burns and the White House's national security adviser, Jake Sullivan, were said to have been considering the possibility that Kiev had orchestrated the sabotage on the pipelines built to deliver Russian gas to Germany.

The report comes after the New York Times cited US officials on Tuesday as saying that an unidentified "pro-Ukrainian group" may have carried out the bombing. The WSJ said this assessment by US intelligence officials "isn't definitive" and that they claimed they saw "no indication" that the alleged perpetrators had ties to the Ukrainian government.
German news organizations reported this week that investigators were looking at a yacht operated by a Polish-based company that was "apparently" owned by two Ukrainians, in a possible connection with the sabotage. The German authorities later confirmed that they had searched the vessel in January, but did not disclose details about any items seized.
The new reports about alleged Ukrainian involvement contradict last month's investigation by veteran journalist Seymour Hersh, who cited a source as claiming that the bombing was carried out by the US with help from Norway. The US and Ukraine have both denied any involvement, and the White House dismissed Hersh's claims as "utterly false."
Kremlin spokesman Dmitry Peskov suggested on Wednesday that the reports about a Ukrainian link were an attempt to divert attention from the real perpetrators and absolve NATO countries. "Obviously, this is a coordinated media hoax campaign," Peskov said.
Moscow has argued that the West is not really interested in a comprehensive international investigation of the incident.
You can share this story on social media: