Switzerland clarifies stance on military aid for Ukraine
Sanctions against Moscow remain "compatible with neutrality" but exporting arms to Kiev does not, Bern said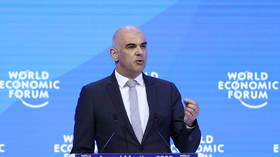 Swiss President Alain Berset has stressed that the Alpine country's constitutional stance of neutrality forbids it from exporting arms to Ukraine during its conflict with Russia. However, he added that supporting Western sanctions against Moscow doesn't contradict Switzerland's neutrality.
"The discussion about the export of arms, weapons… while we have [our] legal framework in Switzerland, it is not possible to do it," Berset said to reporters on Tuesday following meetings at the United Nations.
Despite Switzerland not being an EU member state, Bern has adopted several of the European bloc's sanctions targeting Russia. Berset met with Ukraine President Vladimir Zelensky last week and emphasized his country's "strong humanitarian commitment to Ukraine." Swiss lawmakers last month proposed a near-$140-million package designed to provide support in demining and humanitarian efforts in Ukraine.
Switzerland's constitution dictates that Swiss-made weapons and ammunition cannot be exported to warring countries – but this long-held stance has critics in parliament. Liberal politician Thierry Burkart said last month that Swiss policy is in effect "preventing our Western partners from supporting Ukraine."
Swiss weapons sold abroad are also barred from re-exportation to a third-party country if it is at war. German arms manufacturer Rheinmetall requested permission last month to purchase Swiss-made Leopard tanks, with Germany giving assurances they wouldn't be transferred to Ukraine. Bern has rejected arms transfer requests from Germany, Spain and Denmark in spite of lobbying from Kiev.
Berset, however, offered a glimmer of hope to parliamentary critics of Swiss military exportation policies, suggesting that Bern's stance could switch if there is a "change [to] this legal framework."
The 50-year-old politician was elected to the country's presidency for a second time in December and took office on January 1. The country operates a one-year rolling presidency policy, with a new leader to be elected in December 2023.
You can share this story on social media: