January 6 committee should be 'tried for treason' – Trump
Recently-released security footage showed rioters in "an entirely different light," the former president said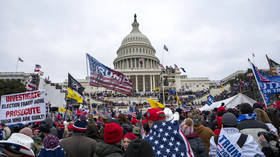 Former president Donald Trump has declared that the Democrat-led panel formed to investigate the January 6, 2021, riot on Capitol Hill should be "tried for fraud and treason." The committee portrayed the riot as a "violent insurrection," while video footage released by House Republicans showed more orderly scenes inside the Capitol.
"The Unselect Committee of political hacks and thugs has been totally discredited," Trump declared on his Truth Social platform on Tuesday, repeating a label he has often used to describe the House committee formed to investigate the riot.
"They knowingly refused to show the videos that mattered," Trump continued. "They should be tried for fraud and treason, and those imprisoned and being persecuted should be exonerated and released, now!"
🚨BREAKING: Never before seen video of January 6 shows Jacob Chansley, the QAnon Shaman, being led through the Capitol by police the entire time that he was in the building. pic.twitter.com/rikoRMWezF

— Greg Price (@greg_price11) March 7, 2023
House Speaker Kevin McCarthy recently shared more than 40,000 hours of security camera footage with Fox News host Tucker Carlson, who aired a selection of clips on Tuesday night. The clips show Capitol Police peacefully escorting a number of Trump supporters through the Capitol building during the riot, including so-called 'Qanon Shaman' Jacob Chansley, while suggesting that a man called Ray Epps – who some Trump supporters allege was a federal agent tasked with inciting violence against police officers – lied about leaving the Capitol before violence broke out.
The committee's final report, on the other hand, declared the riot a "violent insurrection" aimed at "overthrowing our democracy." The committee recommended in December that Trump be criminally charged with inciting an insurrection attempt, obstructing Congress, and conspiring to defraud the United States, arguing that a speech he gave to the crowd before the riot had instigated the riot.
Trump, who is running for office again in 2024, has not been criminally charged, but faces numerous civil lawsuits over his alleged role in fomenting the riot. More than 100 police officers say they were injured on the day, while four Trump supporters died. Two died of natural causes and one of an accidental overdose, while Air Force veteran Ashli Babbitt was shot by a Capitol Police officer near the entrance to the House chamber.
In an earlier Truth Social post on Tuesday, Trump said that the footage shown by Carlson "sheds an entirely different light on what actually happened" on January 6, 2021. Carlson said that while there were some "hooligans" in the crowd that day, the majority of so-called "insurrectionists" were "sightseers."
Out of more than 950 people charged in connection with the riot, 351 have been sentenced and 192 incarcerated. Around three quarters of those who pleaded guilty did so to misdemeanors, according to the Department of Justice.
You can share this story on social media: