Yacht allegedly used in Nord Stream bombing searched – official
A German investigation reportedly discovered trace elements of explosives connected to the explosion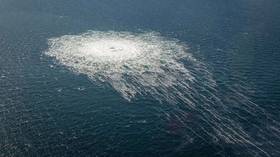 German authorities searched a boat in January which they suspect transported explosives ahead of the bombing of the Nord Stream pipelines in September last year, the country's Prosecutor's Office said on Wednesday.
A spokesperson for the Federal Public Prosecutor's Office confirmed that a search had taken place earlier this year, adding that authorities were still evaluating the items seized. The identities of the people allegedly associated with the rental of the vessel, as well as their potential motives, remained unclear, the official added, as quoted by German media.
On Tuesday, German state broadcaster ARD, SWR radio and Die Zeit newspaper claimed that investigators looking into the incident had found that the yacht reportedly used in the attack belonged to a Polish company "apparently owned by two Ukrainians."
According to Die Zeit, a "secret operation" to destroy the pipelines was undertaken by a team of six people – five men and one woman. Their nationalities are unknown, the paper said, as they used forged passports to rent the ship. The publication also stated that authorities had reviewed information which may have suggested that a "pro-Ukrainian group" was responsible.
The ship set sail from Rostock in Germany on September 6, 2022, Die Zeit added, ahead of the bombings that damaged the pipelines on September 26. The sabotage neutered the Nord Stream 1 and Nord Stream 2 pipelines, which transported Russian natural gas to Europe through Germany.
This followed a Tuesday report in the New York Times which, citing unnamed US officials, claimed that unspecified new intelligence also pointed to a "pro-Ukrainian" group. It added that there was no evidence that the operation had been conducted with oversight from Kiev authorities.
Previously, a detailed report by Pulitzer Prize-winning journalist Seymour Hersh claimed that Washington was connected to the explosions. Figures within the Biden administration have denied the allegations.
Speaking on Wednesday, German Defense Minister Boris Pistorius warned against a rush to judgment amid the renewed reports into the origins of the sabotage. "It may just as well have been a false-flag operation staged to blame Ukraine, an option brought up in the media reports as well," he said.
Kremlin spokesman Dmitry Peskov, though, suggested the Western media reports were designed to be a smokescreen. "Obviously, those who have masterminded the [Nord Stream] attack want to divert attention. Obviously, this is a coordinated media hoax campaign," he told RIA Novosti.
Peskov also renewed Russian calls for a robust, transparent investigation into the bombings.
You can share this story on social media: