South Korea approves indirect arms delivery to Ukraine
Seoul has allowed Poland to donate howitzers made with South Korean parts, but refuses to send its own weapons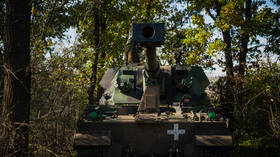 Seoul authorized Poland to deliver AHS Krab self-propelled howitzers built with South Korean parts to Ukraine last year, Kim Hyoung-cheol, a senior official with South Korea's International Cooperation Bureau, told Reuters on Wednesday.
The Krab was developed in Poland, but its latest version is fitted to the chassis of the South Korean K9 howitzer.
The artillery piece equipped with a 155mm gun has been used by Ukrainian troops against Russian forces since Moscow launched a military operation in the neighboring state a year ago.
In July, Seoul and Warsaw signed a deal under which Poland would acquire nearly 1,000 tanks, more than 600 artillery pieces, and dozens of aircraft. South Korean officials said in the past that the package was aimed at strengthening Poland's own defenses.
Kim stated that South Korea's Defense Acquisition Program Administration (DAPA) had approved the delivery of the Krabs. "We reviewed all the documentation and possible issues inside DAPA… when we made [a] decision to give out [an] export license to Poland," he explained.
Despite being among the world's top arms exporters, Seoul has so far refused to directly supply weapons to Kiev. "We have been in solidarity with the international community for peaceful, humanitarian aid to Ukraine and have not provided any lethal weapons," President Yoon Suk-yeol said last year.
In January, NATO Secretary General Jens Stoltenberg urged South Korea to consider sending weapons and ammunition to Kiev during a visit to Seoul. Dmitry Ponomarenko, the Ukrainian ambassador to Seoul, criticized the Asian country earlier this month for "sitting on the fence and pretending to be neutral."
South Korean Prime Minister Han Duck-soo, however, told reporters last week that his country would continue to focus on financial and humanitarian aid for Kiev. "Whether we will go into some lethal weapons support, we [have] not yet decided on that issue," he said.
Russian President Vladimir Putin suggested that Moscow could potentially provide military aid to Pyongyang if Seoul ships weapons to Kiev. He said in October: "How would the Republic of Korea feel if we restarted our cooperation in that field with North Korea?" He further warned that such shipments would damage bilateral ties between Moscow and Seoul.
You can share this story on social media: