Elite air force pilots join protests in Israel
Reservists from a fighter jet squadron are boycotting a regular drill over "worrying" judicial reforms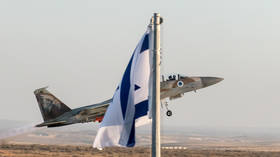 An elite Israeli Air Force fighter jet squadron has grabbed headlines in the Jewish state after its pilots announced that they were boycotting a regular training exercise. The move comes amid growing discontent over judicial reforms planned by Prime Minister Benjamin Netanyahu's government.
As many as 37 of the 40 reservists serving in the 69th fighter squadron said last Sunday that they would boycott a training session on Wednesday in solidarity with anti-reform protesters.
The reform in question, which sparked massive protests in Israel, would allow the government to control the appointment of judges, including those of the Supreme Court, and allow parliament to overrule the top court's decisions with a simple majority.
Late on Tuesday, the pilots softened their stance and announced that they would report to the unit, but only to hold a discussion on the political developments with their commanders.
"We are responding to the call of our commanders and will report to the unit tomorrow for a dialogue with the soldiers. We have full confidence in our commanders, and we will continue to serve the Jewish and democratic State of Israel as long as it is required," the protesting pilots said in a statement cited by the Israeli media.
A lieutenant colonel serving with the unit told the Jerusalem Post that the pilots "will continue to serve the Jewish and democratic Israel, beyond the borders of the enemy at all times."
However, he said, they have "decided to stop for one day of scheduled training to talk about the worrying processes which the state is experiencing," adding that the pilots "require dialogue" on issues that impact them.
The Times of Israel reported that the protesting pilots had only agreed to talk to the commanders and still refused to train. Known as 'The Hammers', the 69th Israeli Air Force Squadron is considered to be one of the most elite air force units. In 2007, the squadron carried out a strike on a Syrian nuclear reactor.
The protest is just the tip of the iceberg, according to Israeli media, which said a growing number of Israel Defense Force (IDF) units are joining the judicial reform demonstrations, with members also threatening to boycott exercises.
On Monday, Netanyahu slammed the reservists' protest, saying it "threatens the foundations of our existence" and has "no place in our ranks." Meanwhile, around 6,000 IDF reservists signed a petition affirming their commitment to service and demanding the army be kept independent of politics.
You can share this story on social media: